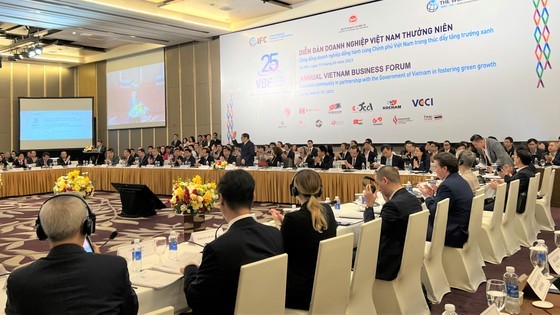 At the forum (Photo: SGGP)
In his speech at the meeting, Minister of Planning and Investment Nguyen Chi Dung said that the last year saw a global economic fluctuation featuring complicated and unpredictable challenges. However, Vietnam has achieved important and comprehensive socio-economic development results in various sectors.
The business and investment environment continues to improve. The business development has prospered with more than 208,300 enterprises that have entered and gone back to the market, up more than 30 percent compared to the same period in 2021. The tourism and service sector saw revitalization and an increase of 19.8 percent after the Covid-19 pandemic has been brought under control. Many important infrastructure projects, especially transportation and energy works, have been accelerated.
Along with the above positive signals, Vietnam has improved its position on rankings and has made significant progress. Many international organizations consider stated that Vietnam is a bright spot in a gray picture for the global economy, he noted.
Economic recovery and development in the direction of green and sustainable growth is currently a top priority and a goal that every country is aiming to reach the goal of economic prosperity, environmental sustainability and social equity, towards a green economy, carbon neutrality and limit of global temperature rise.
Green growth is not only an inevitable choice but also an opportunity for Vietnam to become a pioneer country in the region, catching up with the global development trend, the Minister of Planning and Investment emphasized.
The Minister hoped that VBF 2023 will be an opportunity for the business community to support the government to seek solutions for the implementation of the development of a green and sustainable economy, and enhance their responsibility for carrying out effective business investment and contribution to the country's sustainable development.
The Vietnam Business Forum (VBF) is a policy dialogue between the Vietnamese Government and the business community that aims to create a favorable business environment and promote sustainable economic development in Vietnam. 2023 marks the 25th anniversary of VBF's contribution to creating a favorable investment environment in Vietnam.