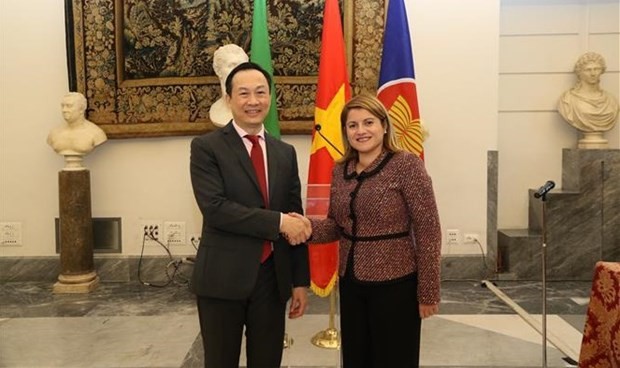 Vietnamese Ambassador to Italy Duong Hai Hung (L) and Italian Undersecretary of State for Foreign Affairs and International Cooperation Maria Tripodi (Photo: VNA)
The Vietnamese Embassy in Italy has hosted a press conference to announce the Vietnam-Italy Year 2023 and the celebration plan for the 50th anniversary of the bilateral diplomatic ties (March 23, 1973) and 10 years of the strategic partnership between the two countries (January 2013-2023).
The January 14 press conference saw the attendance of Italian Undersecretary of State for Foreign Affairs and International Cooperation Maria Tripodi, President of the City Council of Rome Svetlana Celli, among other Italian officials.
Vietnamese Ambassador to Italy Duong Hai Hung stated that the embassy will coordinate with Italian agencies and localities to organize celebration activities in Rome, Milan, Florence, Venice, Napoli and other cities throughout 2023.
Such activities are expected to open up cooperation opportunities, deepen the strategic partnership and facilitate collaboration in politics, economy, investment, culture-education, science-technology, tourism, innovation, digital economy, green economy and renewable energy, as well as people-to-people exchange and cooperation between localities, focusing on the economic ties.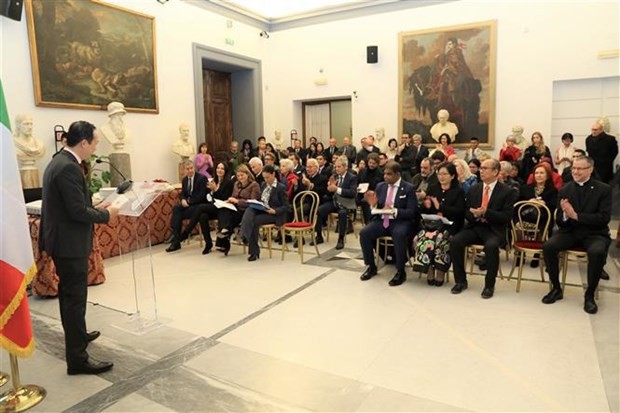 At the press conference (Photo: VNA)
For her part, Tripodi affirmed that Italy considers Vietnam an important dialogue side and a partner essential for stability and economic development in Asia-Pacific.
The bilateral relationship has been developing intensively and extensively, as reflected through the regular exchange of delegations at the highest level, with the latest meeting between Prime Minister Giorgia Meloni and her Vietnamese counterpart Pham Minh Chinh on the sidelines of the ASEAN-EU Commemorative Summit in Brussels in December 2022, she said.
Regarding the establishment of the strategic partnership a decade ago, the official said it has created a framework for bilateral relations, noting that action plans have helped to boost the bilateral cooperation in economy and other spheres like national defense, justice and environment.
According to Tripodi, the Italian Embassy in Hanoi and Consulate General in Ho Chi Minh City will also organize multiple activities this year to celebrate the relations, thus promoting the strategic partnership.
The official said she will visit Vietnam soon to introduce Italy's bid to host World Expo 2030, and called for the Southeast Asian nation's support to Italy in the effort.
Trade between Vietnam and Italy hit a record US$6.2 billion in 2022, up 11 percent from the previous year. Vietnam is Italy's biggest trade partner in the Association of Southeast Asian Nations (ASEAN), and Italy is Vietnam's fourth largest trade partner in the EU.
During the Covid-19 pandemic, Vietnam presented more than 300,000 masks to Italy, while Italy donated 2.8 million doses of vaccines to Vietnam.