ERCIS, Turkey, Oct 24, 2011 (AFP) - An earthquake of 7.2 magnitude on Sunday killed 138 people and injured 350 in eastern Turkey, the Turkish prime minister said.
Ninety-three people died in Van province and 45 in the Ercis district, Prime Minister Recep Tayyip Erdogan told reporters, during an immediate visit to the quake region to see for himself the devastation.
He was being accompanied by six ministers.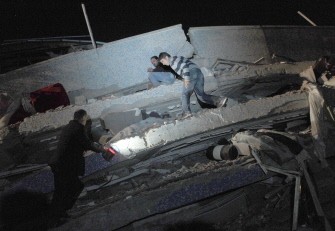 AFP - Turkish men take part in a rescue operation to salvage people from a collapsed building after an earthquake in the Ercis procince of Van, in eastern Turkey, on October 23, 2011.
An earlier toll had given 70 dead including 50 in Ercis, a district of around 100,000 people in the same region as Van.
The situation in Ercis is more grave, said Erdogan, adding that around 55 apartment buildings collapsed, raising fears that the toll could increase as many people were trapped under rubble.
"Search and rescue efforts will continue overnight," said Erdogan.
Television footage showed search and rescue teams recovering bodies from the collapsed buildings in Van and Ercis.
The teams were using electrical generator lights to help the search for trapped victims as night fell.
"An eight-storey apartment building collapsed," a local from Ercis told AFP.
"There are efforts to rescue people but the loss is big. I myself saw three to four dead," he added.
Most people are expected to spend the night outdoors, with the temperature expected to dip to three degrees Celsius (37 Fahrenheit).
The quake has mobilised Turkey to rush to the help of the victims.
Some 1,275 search and rescue teams from 38 Turkish cities as well as 145 ambulances were sent to the quake region, according to media reports.
The military said six battalions were also involved in search and rescue efforts, in a statement posted online.
Six helicopters, including four helicopter ambulances, as well as C-130 military cargo planes were sent to the area carrying tents, food and medicine.
Some 200 inmates fled the prison in Van province, when the building was damaged in the quake, media reports said. But 50 of the inmates returned to prison later after seeing their families, they added.
US President Barack Obama offered his condolences to the victims of the massive quake and said the United States stood ready to assist the country's authorities.
"We stand shoulder to shoulder with our Turkish ally in this difficult time, and are ready to assist the Turkish authorities," he said in a statement.
The epicentre of the quake, which struck at 1041 GMT, was at Tabanli in Van province, Turkey's Kandilli institute said. Two aftershocks had hit the villages of Ilikaynak and Gedikbulak in particular, it added.
Although the quake damaged Van's airport it did not disrupt the air traffic, the Anatolia news agency reported, citing civil aviation authorities. The Turkish airlines launched additional flights to Van.
The quake was also felt across the border in northwestern Iran, causing some panic in major cities, Iranian media reported. They did not report any deaths or serious damage.
The US Geological Survey initially measured the quake at 7.3 magnitude but later downgraded it to 7.2. It registered many aftershocks, the latest of which was of 6.0 magnitude.
The quake that struck Van, a large eastern city populated mainly by Kurds, was Turkey's strongest in years.
Earthquake-prone Turkey lies atop several fault lines.
In 1999, two strong quakes in the heavily populated and industrialised regions of northwest Turkey left some 20,000 dead. A powerful earthquake in the town of Caldiran in Van province killed 3,840 people in 1976.