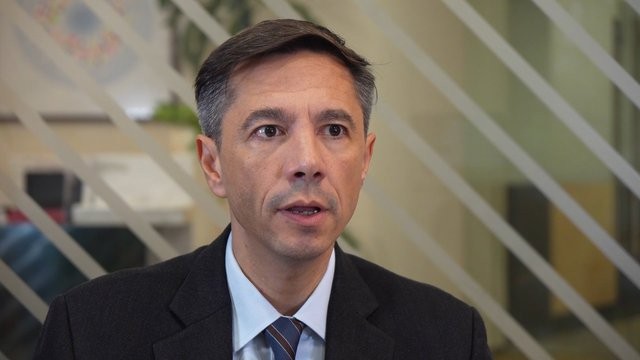 Mr. Andrea Coppola, Chief Economist of WB in Vietnam
In a talk with SGGP Newspaper's reporter, Mr. Andrea Coppola, Chief Economist of WB in Vietnam, shared that Vietnam had good macroeconomic results last year. This is a remarkable result amid the economic downturn in many other countries. However, he warned the Southeast Asian country will hit difficulties and see slower economic growth in 2023.
According to Mr. Andrea Coppola, three strong resistances including inflation, and uncertainty associated with heightened risks in the financial sector have been affecting the global economy in 2022 and 2023. Firstly, persistent inflationary pressures, worsening financial conditions and recession in large economies are projected to cause global economic recession. In such a context, the Vietnamese economy will face strong headwinds in 2023 on both external and internal fronts.
Secondly, the above risks will have a strong impact on Vietnam's main trading partners. Thirdly, domestically, higher inflation and uncertainty related to financial sector risks could weigh on growth prospects.
The WB expert proposed that authorities can consider restraining public expenditures, prioritizing spending on human resource development, and speeding up the implementation of public investment projects that have the highest expected impact on economic growth. Effective public investment management is crucial for promoting economic growth in the context of inflation.
To address liquidity challenges, as some banks become more vulnerable and are in need of assistance, the State Bank can help restore confidence by providing emergency liquidity support for banks that have a plan to restore their liquidity without regular dependence on loans from the State Bank. In addition, it is necessary to continue to improve financial stability, and strengthen supervision, monitoring and assessment of systemic risks in the banking, capital and real estate markets.
This problem is especially serious for ODA-funded projects where land acquisition and resettlement are carried out with counterpart funds, which are often underestimated during preparation, leading to insufficient capital for project implementation. Another problem that slows down the disbursement of public investment projects is the poor preparation of projects.
To improve the efficiency of public investment management, authorities should improve the quality of project preparation by more accurately estimating costs and benefits, including land-related issues. If a project is judged to be unfeasible, simplified procedures should be considered for a timely adjustment.
Regarding the institution's role in pushing Vietnam into the economy with high income, Mr. Andrea Coppola said that Vietnam's GDP per capita has increased fivefold over the past three decades whereas the institution has not been able to adapt at the same rate. He mentioned a recent World Bank Group systematic country diagnostic report titled "How will Vietnam blossom" which contains five recommendations for institutional reform for Vietnam including the creation of a solid institutional foundation for each development priority to turn into concrete actions, simplification of administrative procedures to improve the effectiveness of governments at all levels, use of market-based tools to motivate relevant sides in public and private sectors, effective implementation of rules and regulations to enhance motivation, trust and fairness and greater transparency and accountability.
By adopting these institutional reforms more systematically, Vietnam will strengthen its economic development vision, strengthen its capacity to implement national strategies and produce results in a number of key areas that help the country achieve development goals such as green growth and digital transformation.
Vietnam's strong economic performance in 2022 has been driven by several factors, including export, domestic demand, private investment and FDI disbursement, according to Mr. Andrea Coppola.