Vietnam was elected by the United Nations General Assembly to the United Nations Human Rights Council (UNHCR) for the 2023-2025 term at the United Nations' headquarters in New York, the United States on October 11, 2022. This is the second time that Vietnam has been elected to the UNHCR after the term of 2014-2016.
Apart from a high appreciation for economic growth and social stability, more and more international friends have extended their love to learn about and visit the country thanks to exchange programs and activities of promoting and spreading the cultural beauty of Vietnam in many countries.
As of last year, Vietnam was elected by the United Nations General Assembly to the United Nations Human Rights Council (UNHCR) for the 2023-2025 term. General Secretary of the United Nations Antonio Guterres expressed his belief that Vietnam would continue to proactively and effectively contribute to promoting and protecting human rights.
Mutual harmony
In 2022, Vietnamese high-ranking leaders had important official visits to many countries at both bilateral and multilateral levels, and vice versa, senior leaders of countries also paid official visits to Vietnam.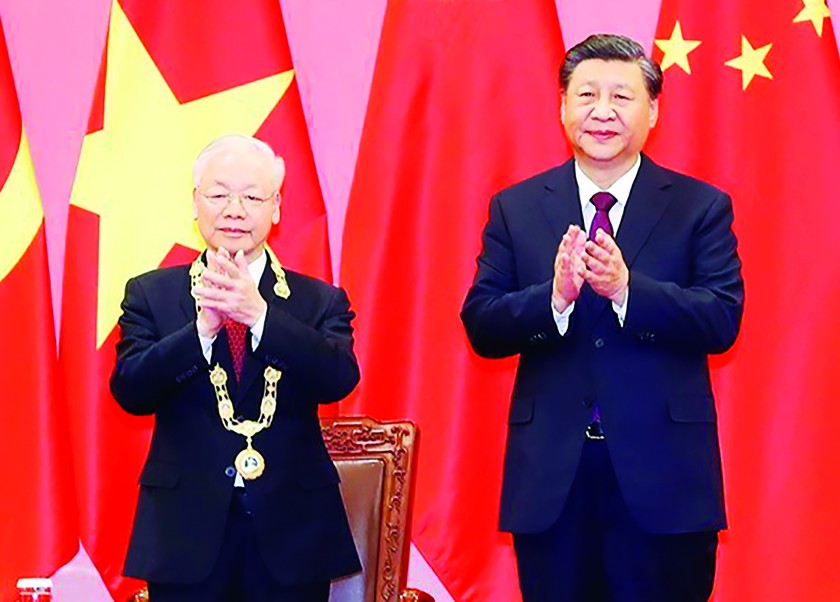 General Secretary of the Communist Party of China (CPC) Central Committee and President of China Xi Jinping received General Secretary of the Communist Party of Vietnam (CPV) Central Committee Nguyen Phu Trong along with Vietnamese high-ranking delegates at the Great Hall of the People in the capital city of Beijing on October 31 of 2022 on the occasion of their official visit to China.
The highlighted official visits by Vietnamese top leaders included the visit by Party General Secretary Nguyen Phu Trong to the People's Republic of China along with the official visits of State President Nguyen Xuan Phuc, Prime Minister Pham Minh Chinh, Chairman of the National Assembly Vuong Dinh Hue and Permanent member of the Party Central Committee's Secretariat Vo Van Thuong to many countries and territories.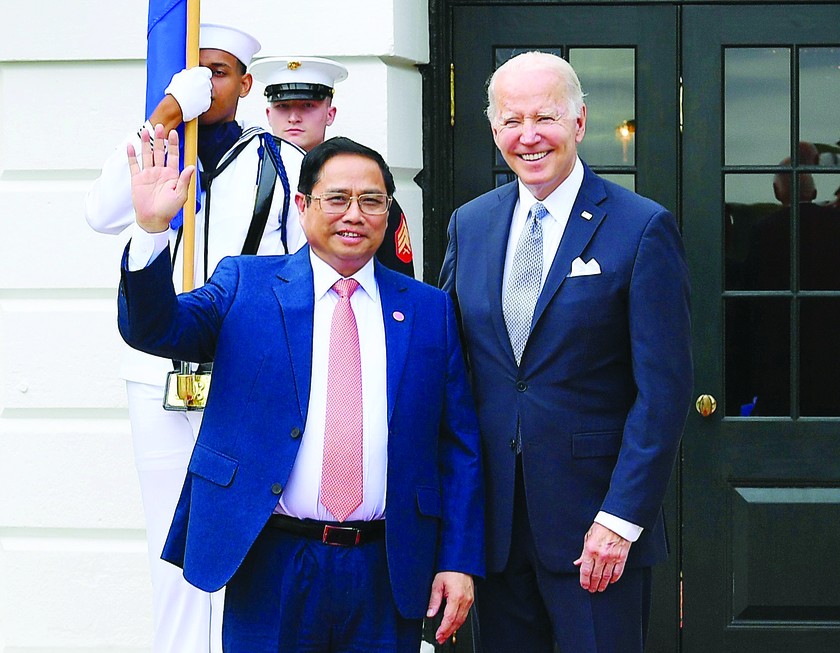 Vietnamese Prime Minister Pham Minh Chinh met US President Joe Biden on May 12, 2022 (local time) in Washington D.C
On July 17 of 2022, Permanent member of the Communist Party of Vietnam Central Committee's Secretariat Vo Van Thuong had a meeting with General Secretary of the Lao People's Revolutionary Party (LPRP) Central Committee and President of Laos Thongloun Sisoulith to mark the 60th anniversary of the two countries diplomatic relations and the 45th anniversary of the singing of the bilateral Treaty of Amity and Cooperation.
Right after the 20th National Congress of the Communist Party of China (CPC), Party General Secretary Nguyen Phu Trong was the first foreign leader to receive an invitation from the Chinese side.
This was the first time that China welcomed an official high-level leader after three years affected by the Covid-19 pandemic showing their respect dedicated to the Vietnamese leader.
The Communist Party of Vietnam always shows mutual confidence and respect for the relationship between the two countries along with Vietnam's consistent diplomacy policy and the Party's foreign affairs.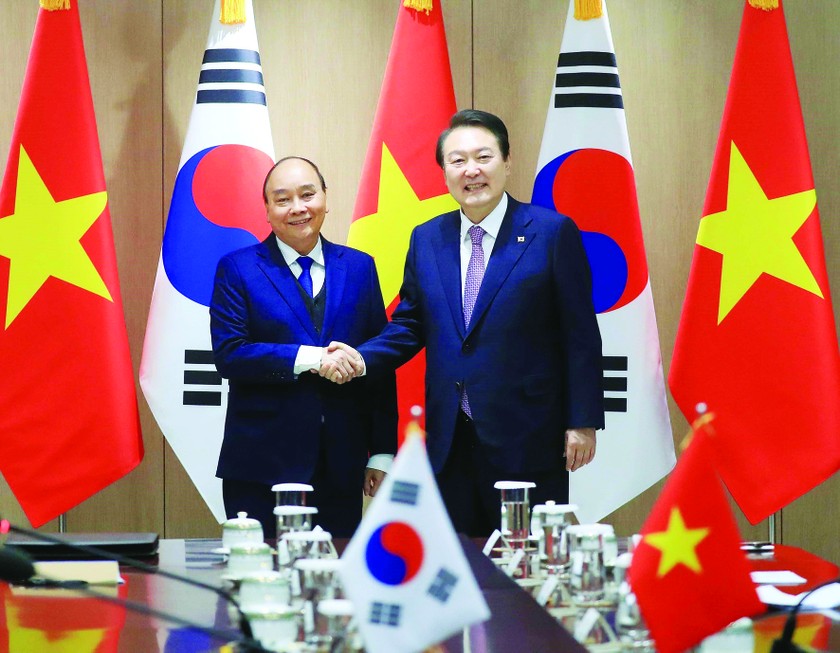 State President Nguyen Xuan Phuc had official talks with President of the Republic of Korea Yoon Suk – yeol in Seoul on December 5, 2022.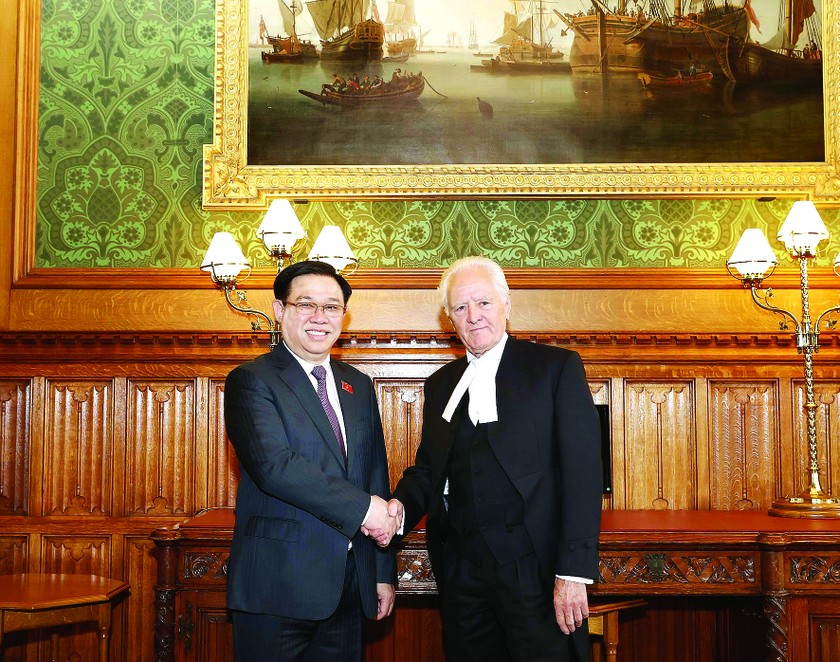 Within the framework of the official visit to the United Kingdom, Chairman of the National Assembly Vuong Dinh Hue had official talks with Speaker of the UK House of Lords John Mcfall in London on June 29, 2022.
From December 21-22, 2022, Vietnamese State President Nguyen Xuan Phuc led a high-ranking delegation to pay a State-level visit to Indonesia following an invitation of Indonesian President Joko Widodo. 2022 was considered as a year with massively active and effective foreign affairs activities of the Party, State, Government and the National Assembly.
In parallel, many top leaders of countries in the world also extended their official visits to Vietnam including Cambodian Prime Minister Hun Sen, Prime Minister of New Zealand Jacinda Arden, German Prime Minister Olaf Scholz, Singaporean President Halimah Yacob, Ugandan President Yoweri Kaguta Museveni, French Senate President Gerard Larcher, Lao Prime Minister Phankham Viphavan, General Secretary of the United Nations Antonio Guterres and so on.
Green energy diplomacy
Through the official visits, many cooperation agreements had been signed, including dozens of agreements with a total amount of billions of US dollar bringing new opportunities in fields of trade and high-quality investment, developing the Vietnamese economy with advanced technology and competence. If 2021 was considered as a year of "vaccine diplomacy", the year of 2022 was proudly considered as "green diplomacy" and "energy diplomacy".
Following the commitment of Vietnamese Prime Minister Pham Minh Chinh at the 26th United Nations Climate Change Conference of the Parties (COP26) in Glasgow, Scotland (the UK) on net-zero emissions by 2050, the international communities highly appreciated the country and considered Vietnam as a model of a developing country facing various difficulties but it has pioneered to make green commitment to keep a safe house for humankind.
On December 14 of 2022, Vietnamese leaders and International Partners Group (IPG), including the European Unions, the United Kingdom, France, Germany, the United States, Italy, Canada, Japan, Norway and Denmark signed onto a Just Energy Transition Partnership (JETP) agreement to mobilize US$15.5 billion from private sector and governments in the next three to five years to help Vietnam achieve the set target of net zero emissions in 2050, accelerating the peaking of its greenhouse gas emissions and transition away from fossil fuels to clean energy.
As the financial sources are getting more and more difficult, there were massive commitments to financial aid and investment for Vietnam's green transition showing that many countries believed and desired to accompany the country.
Notably, in 2022, there was the investment and construction project of a more than US$1 billion Danish Lego factory in Binh Duong Province. To choose Vietnam for building a giant factory dedicated to its durable investment, Lego has brought more motivation for many Danish investors in the field.
Danish Ambassador to Vietnam Nikolai Prytz said that for various reasons, Vietnam is an interesting destination for Danish investors in different fields.
It could be said that Vietnam has well taken advantage of free trade agreements with its role as a member to develop; been proactive in production and exportation, further participated in the global supply chain; diversified its markets and products; attracted foreign investors in the field of the industrial sector with fundamental nature, including electronics, materials industry, chemicals, pharmaceuticals, supporting industries, manufacturing and so on.
Optimistic investors
With the motto of "Decisiveness, braveness, breakthrough, substance, effectiveness, exploitation and taking advantage of all opportunities for national development", the country's economy in 2022 continued to recover rapidly in almost all of the areas, fields; and Vietnam has become one of the bright spots of economic growth in the region and the world.
After over two decades working in Vietnam, CEO of the American Chamber of Commerce in Hanoi Adam Sitkoff found a remarkable improvement in the business environment in Vietnam to attract foreign enterprises.
He expressed that the American enterprises' community was positive toward the strong economic growth of Vietnam in 2022 and believed that it would be reached furthermore. Vietnam is not only the top destination for multinational companies finding their ways to diversify the supply chain but the country's economic growth is strong.
Another survey of Japan External Trade Organization (JETRO) conducted in more than 1,700 holding companies in Japan showed that Vietnam is the second choice for Japanese enterprises to expand their business activities after the United States.
Amid political and economic fluctuations in the world, the total import-export turnover of Vietnam in 2022 achieved US$700 billion and the country is among the top 20 countries on the trade scale. The international institutions comprising World Bank (WB), International Monetary Fund (IMF) and so on all gave optimistic predictions on Vietnam's GDP for the whole year of 2022 ranging from 7.2 percent to 8.2 percent. Besides, international credit institutions such as Moody's Investors and S&P Global Ratings also upgraded Vietnam's rating and long-term economic outlook.
It could be affirmed that the official visits of leaders of the Party, State, Government and National Assembly are practical and effective activities in implementing the diplomatic policy of the Party on continuing to strengthen and enhance the effectiveness of foreign affairs and international integration, promoting and raising the level of multilateral diplomacy until 2030, contributing to making economic diplomacy serve for national development by 2030 in the new situation, thereby deeply positioning the image of Vietnam as a friend, a reliable and responsible partner of the international community.
The diplomacy policy of Vietnam has been built on three pillars, including Party diplomacy, State diplomacy and people-to-people diplomacy which have received trust and been highly appreciated by international communities on bilateral and multilateral sides from Party diplomacy, State diplomacy, parliament diplomacy to diplomacy with powerful countries, neighboring ones, big partners or traditional friends in all of the continents and so on. These all have helped fortify the peaceful environment, strengthen the faith for partners and create long-term foundations to develop cooperation relations between Vietnam and countries in the new era.