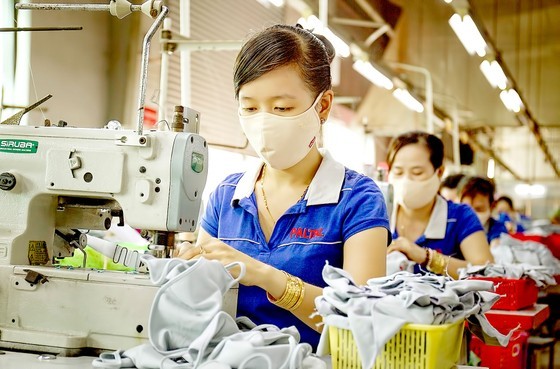 At a garment company in District 12 in HCMC. (Photo: SGGP)
Experts assess Vietnam's economy in 2022 to have a strong recovery and growth after the Covid-19 pandemic, with a total export turnover of hundreds of billions of dollars and FDI capital of billions of dollars. However, this year, the growth trend of enterprises is forecast to branch into different directions for each industry.
Many opportunities, many challenges
Mr. Nguyen Ngoc Hoa, Chairman of the Ho Chi Minh City Union of Business Association, shared that from the middle of the fourth quarter of 2022 to now, enterprises in some fields have been facing many unfavorable problems. In which, the situation of raw materials supply, as well as the export market, is not favorable due to global economic and political developments, especially the impacts of the conflict between Russia and Ukraine.
In the domestic market, the unstable supply of petroleum affects the daily life of people, the circulation of goods, and the production and business activities of enterprises. Especially, the issue of corporate bonds still affects the psychology of investors and people. Actual records from production activities show that enterprises in the fields of textiles, apparel, footwear, and wood processing have encountered a shortage of orders, operated in moderation, or reduced jobs, leading to many workers losing their jobs or receiving lower incomes. Notably, the import-export and real estate sectors have faced difficulties in terms of cash flow due to the tightening policy of credit and corporate bonds. This situation is forecasted to prolong until the middle of 2023 by some businesses.
On the other hand, some industries that are expected to have a breakthrough this year are food, foodstuff, and agricultural product processing. Mr. Truong Tien Dung, Vice Chairman of the Food and Foodstuff Association of Ho Chi Minh City, said that the biggest opportunity is when China reopens its borders with the easing of Covid-19 control measures. Many enterprises have planned to increase production and business capacity to meet opportunities for the Chinese market.
For instance, Xuan Nguyen Group Joint Stock Company has reactivated the entire production line, increasing capacity to 100 percent instead of 50 percent as in 2022, to prepare for the opportunity to export goods to the Chinese market. Currently, the company's monthly production capacity is recorded at 1,200 tons of honey and more than 20,000 tons of other products. Besides, this year, the agricultural sector is also forecasted to have more favorable conditions when the Government still prioritizes development in three main areas, including production, export, and domestic consumption services; in which agriculture is still a support pillar, promoting deep processing and sustainable development.
Capital support, tax rescheduling
To support enterprises to overcome difficulties, as well as accelerate development, Mr. Nguyen Ngoc Hoa said there should be synchronous support of many policies. The first group is finance and banking. The State should have solutions to extend debt repayment for medium and long-term loans. Accordingly, the loan contract duration is extended correspondingly to the grace period without changing the payable amount for each period according to the previous repayment schedule, helping to reduce the pressure of debt repayment compared to the requirement to divide the debt equally according to Circular 01/NHNN-TT.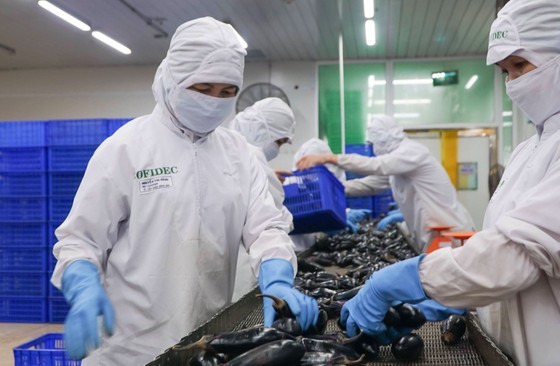 Production at a food processing company in HCMC. (Photo: SGGP)
Next, the State needs to provide loans for work stoppage and job quitting and other loans to support enterprises that have a shortage of orders, have to lay off workers, and work alternately, thereby helping enterprises overcome difficulties and workers get jobs. At the same time, it is necessary to lower the loan interest rate to support enterprises by requiring commercial banks to fix the net interest margin (NIM) to an average of 3 percent to share difficulties with the business community. This helps ensure profits and appropriate loan interest rates for businesses and creates healthy competition in credit activities.
According to financial experts, the State needs to develop a policy package to stabilize the real estate and corporate bond markets so as not to make the situation worse, affecting the economy and social security. However, this support package does not apply to all enterprises and real estate projects, but there are specific selection criteria for participants, including investors, banks, and investors. Statistics show that the real estate industry plays a very important role, being a locomotive for 70 other industries to develop.
As for value-added tax, experts suggest that the 2 percent reduction should be maintained for all economic sectors until the end of 2024 instead of the end of 2022. Other taxes, such as corporate income tax, land rent, and special consumption tax, should also be considered to be reduced to share difficulties with enterprises. "Authorities need to effectively reform administrative procedures, focus on completely solving the backlog of documents for granting house ownership, and land-use right certificate and changing land use purpose, and construction completion procedures so that people and businesses can complete legal procedures and can mortgage to get capital for production and business activities," Ms. Ho Thi Thu Uyen, Head of the Saigon High-tech Park Business Association, Director of Public Affairs of Intel Vietnam, emphasized.
Mr. Nguyen Minh Hoa, Vice Chairman of the Vietnam Cashew Association:
The Cashew export industry decreased after 10 years of continuous increase
In 2022, Vietnam's cashew nut exports reached US$3.07 billion, failing to achieve the target of $3.2 billion in export turnover. The volume of exported cashew nuts and imported raw cashew decreased significantly compared to the same period in 2021. Thus, the cashew industry has ended ten years of export growth (2011-2021). The reason is that, in 2022, importers and processors tended to be slow to purchase raw materials. The price of raw cashew was still at a fairly high level compared to the selling price of cashew nuts. The export processing cost was high, while the export price of cashew nuts was low.
The Vietnam Cashew Association proposed that ministries and agencies create the most favorable conditions for cashew businesses, especially in tax and customs policies; The State Bank of Vietnam direct commercial banks to prioritize credit limits and loan interest rate support packages for the cashew industry; The Ministry of Finance and the Ministry of Industry and Trade issue specific guidance documents to help remove problems about the type and origin of goods for enterprises importing raw cashew; The Ministry of Agriculture and Rural Development organize assessment and make stable and long-term planning of cashew growing areas.