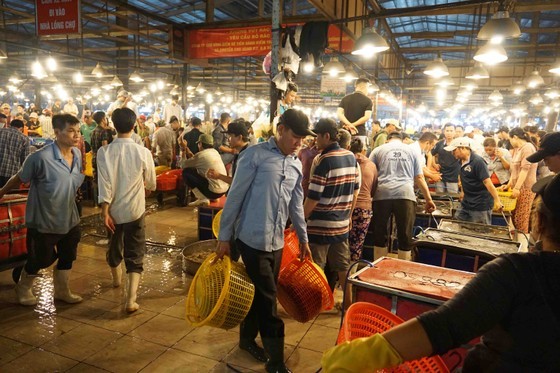 At Binh Dien Wholesale Market. (Photo: SGGP)
The market for essential goods, especially food and foodstuffs to serve the Tet shopping needs, has entered its peak. Currently, besides preparing a sufficient supply, many supermarkets and markets are also committed to reducing and stabilizing the prices of essential items.
Ho Chi Minh City: Slight increase in offerings prices
It was recorded on January 13 (the 22nd day of the 12th month in the lunar calendar) that prices of many items for the Land Genies and Kitchen God worship increased slightly. At Nguyen Van Troi Market in Phu Nhuan District, marigolds were bought heavily by many customers, at a price ranging from VND15,000-20,000 per bundle of 4-5 flowers; dragon fruits were priced at VND40,000-45,000 per kg; star apples fetched VND45,000 per kg; green-skinned tangerines was sold at VND40,000-50,000 per kg. This price level has increased from VND3,000-5,000 per kg compared to normal days.
At Ben Thanh Market in District 1, fruit offerings to the Land Genies and Kitchen God also rose by 10-15 percent. For example, first-grade mandarin oranges surged by VND10,000 per kg compared to January 12, at VND75,000 per kg; first-grade green-skinned tangerines were at VND90,000 per kg, up VND10,000 per kg; longan, Chinese apples, and pears also climbed by VND5,000 per kg to VND45,000 and VND55,000 per kg, respectively.
Nguyen Hoa, a small trader at Ba Chieu Market in Binh Thanh District, said that the price of some types of fruits went up by 10-15 percent compared to normal days, but the purchasing power was merely higher by 5-10 percent compared to normal days.
Meanwhile, representatives of some wholesale markets, such as Binh Dien, Hoc Mon, and Thu Duc, said that the volume of goods that arrived on the night of January 12 and early morning of January 13 was stable. Specifically, in Hoc Mon Market, tangerines grown in the Mekong Delta cost VND30,000 per kg; longan was sold at VND30,000 per kg; king orange fetched VND12,000 per kg.
For carp products, small traders at Binh Dien Market were selling carp for VND70,000-120,000 per kg, depending on fish size. For some retail markets, small traders sell carp by individual, at VND15,000-30,000 per head, depending on size. This year, the offerings package service costs VND1-3 million, including all dishes, such as boiled chicken, pork bologna, and crab spring rolls. Vegetarian offerings packages are at a much lower price, from VND500,000 upwards, with fruits, fresh flowers, and vegetarian Chung cake (Vietnamese square sticky rice cake). Depending on the request, customers can order an offering tray to suit the taste of each region at various prices.
Hanoi: People rush to shop for Tet early
According to a survey by SGGP Newspaper's reporter, in the last 1-2 weeks, most supermarkets and shopping centers in Hanoi were overloaded as people started to go shopping for the Lunar New Year. At some places, customers had to queue until 10-11 p.m. at the checkout counters.
BigC Thang Long Supermarket in Cau Giay District, as well as the Tops Market chain system in Nguyen Xien Street in Thanh Xuan and Ha Dong districts, used to be crowded only on weekends, but now, they also see a large number of customers on weekdays. The areas where many customers gather and shop are the display areas for confectionery, sugar-coated fruits, dried fruits, fresh fruits, and vegetables. This year, the Lunar New Year comes earlier than in previous years. People said that many enterprises gave Tet bonuses early, so they went shopping to avoid being crowded and rushed. However, supermarkets were unusually crowded than expected.
Winmart Supermarket and Co.opmart Supermarket on Tran Phu Street in Ha Dong District, as well as Lotte Mart and Mega Market, are packed with customers in the evening in recent days. According to Mr. Le Van Liem, Director of the Northern region of the Saigon Co.op, the number of customers to Saigon Co.op's supermarkets soared by about 30 percent compared to normal days. According to a representative of Wincommerce General Trading Services Company, from the beginning of December 2022 to now, the purchasing power at the WinMart/WinMart+ system has increased gradually, and the peak is from the second week of January to near the Lunar New Year.
Trying to keep the price of food and foodstuffs
Mr. Phan Van Dung, Deputy General Director of Vietnam Animal Industry Joint Stock Company (Vissan), on January 13, said that its partners had signed a commitment to keep the price of fresh ingredients (mainly pork) stable for three months before, during, and after the Lunar New Year. As for processed food, Vissan has implemented the reserve of raw materials for production from June 2022, so supply and price are always ready to serve the people's shopping needs for the Tet holiday.
Especially, in three days, from December 28 to 30 in the lunar calendar, Vissan will launch a promotion program with sharp discounts of 5-30 percent on processed and fresh products at supermarkets and points of sale to create favorable conditions for laborers to purchase quality and safe food. Similarly, the retail system of Saigon Co.op said that it would offer discounts and promotions every day from now to the Lunar New Year, directly discounting up to 50 percent for thousands of essential products for the Tet holiday and launching deeper discounts in ten days near Tet to ease shopping pressure for people.
Supermarket chains, such as Satra, MM Mega Market, Emart, and Lotte Aeon, pledge to keep prices for essential goods and Tet holiday specialties, at the same time, increase the supply of price-stabilized items, focusing on essential foods and fresh foods. For instance, from now to the end of 2023, retail stores of Satra will lower prices of more than 3,000 items with a decrease of up to 72 percent. Meanwhile, representatives of wholesale markets in Binh Dien, Hoc Mon, and Thu Duc said that commodity prices often fluctuate in the days near Tet and are decided by the market. Therefore, besides the regulation that small traders must publicly list selling prices, the market also sets up a team to inspect and propagate small traders to keep prices stable to support people as the economic situation remains quite difficult.
The Department of Industry and Trade of HCMC proposed the People's Committee of Thu Duc City and the districts to organize a standing force to monitor and grasp market developments and prices of essential commodities to serve people's consumption needs; promptly report and propose solutions when there are signs of a shortage of goods in the locality. At the same time, it proposes and supports the organization of mobile sales and the addition of distribution points in areas where the network of points of sale has not yet met people's needs, prioritizing implementation in districts and areas with a large concentration of workers, strengthening inspection and controlling of the observance of State regulations on commodity prices at markets, supermarkets, trade centers, and convenience stores.