Insiders and experts have said the sheet steel industry needs to improve quality and bring down prices to combat fakes, which have become pervasive.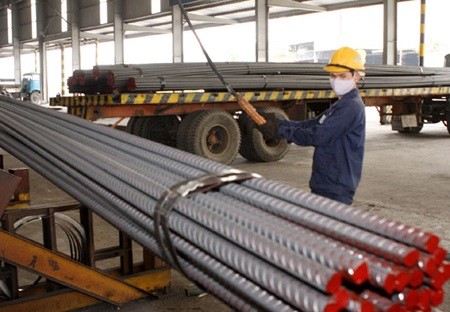 Steel is prepared to be transported at Viet Duc Steel Co in the northern province of Vinh Phuc. — VNS/VNS Photo Tran Viet
Le The Bao, chairman of the Viet Nam Association for Anti-counterfeiting and Trademark Protection (VATAP), told Viet Nam News that counterfeits were a hot issue in the country, affecting every industry, especially makers of sheet steel.
"Developing production" would help improve product quality and cut down prices, enabling the industry to take on counterfeits, something that "has been stressed by the Government," he said.
Companies should make cheaper products targeted at rural consumers - a very big market - so that low-income people could buy genuine products, he said.
Le Phuoc Vu, chairman of steel giant Hoa Sen Group, said his company would make every effort to fight fakes. Along with improving quality and reducing prices, it would also widen its distribution system, doubling the number of branches around the country to 300 within three years, he promised.
His company's branches would lend equipment to customers to check products even when they do not buy from them. There would be programmes to educate and inform people, and a hotline had been set up at 1800 1515 for callers to inquire about real and fake steel sheets, he said.
Consumers must insist on a tax invoice if they want to join hands with manufacturers to fight counterfeits, he said.
The Viet Nam Steel Association (VSA) and some traders called for using modern technology to imprint manufacturers' names and other information on steel sheets, making it harder to fake them.
"The technology is very expensive, which will help curb the fraud," a marketer who asked not to be named said.
Big players hurt
On the sidelide of a conference organised by VSA, VATAP and the Vietnam Economic Times late last month, the Market Surveillance Department reported that in the first 10 months of the year it detected and seized 10,000 tonnes of fake steel sheets.
The conference also heard that market watch officials routinely unearth fakes masquerading as well-know brands like Ton Hoa Sen, Vnsteel Thang Long and Phuong Nam, seizing tens of thousands of tonnes of fake sheets and other products whose quality do not match up to claims.
Nguyen Van Sua, VSA deputy chairman, said the counterfeits were produced in northern provinces and cities like Thanh Hoa, Bac Ninh, Bac Giang, Ha Noi and Phu Tho.
The fake sheets are flooding the market, causing much heartburn to legitimate producers.
A Hoa Sen Group spokesperson told Viet Nam News that his company's market share kept rising steadily until last year, but has fallen this year from 40 per cent to 37 per cent.
He blamed it squarely on counterfeit products, adding they are likely to cost the company VND118 billion (US$5.6 million) in revenues this year.
A Phuong Nam Steel Sheet Company Ltd executive told Viet Nam News without disclosing numbers that his company had been affected by the fake products.
The problem was becoming trickier since it is not easy for consumers to recognise them, he said.
A journalist in Ha Noi who asked not to be named said he bought steel sheets for his roof three years ago and they had rusted.
They were purportedly made by a famous local company — he had seen the brand name on the sheets and the seller, a local retailer, had also assured him.
But he later discovered they were fake when the company tested them.
And if an educated, aware person like him can be taken in, what chance do farmers and other rural people have?
Viet Nam News asked some experts working for sheet steel manufacturers about this. They said the fakes are usually thicker and poorly plated as a result of which they last no more than two or three years compared to the dozens of years that quality sheets last.