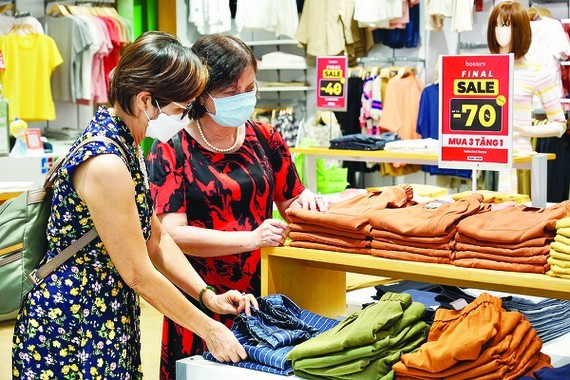 A fashion store in a shopping center in HCMC offers a discount of 70 percent on fashion products. (Photo: SGGP)
The number of customers to supermarkets and trade centers has been fairly high in recent days. Co.opmart Supermarket on Ly Thuong Kiet Street in District 10 is always bustling with customers.

Nguyen Thi Tuyet Anh, living on Ly Thai To Street in District 10, said that thousands of promotional and discounted items create a great attraction to housewives. "Cooking oil, fresh vegetables, rice, cakes of all kinds are at good prices compared to normal days. For example, Long Chau 66 rice was previously priced at VND190,000 per bag of 5kg, but now it is reduced to VND151,000; Meizan oil is sold at VND103,500 per bottle of 2 liters, VND3,000-VND5,000 per bottle cheaper than before. For large bills paid by credit cards, it is convenient to order goods at the supermarket for home delivery," said Tuyet Anh.

Similarly, cosmetics, perfumes, and fashion clothes of many large brands worldwide sold at shopping centers, such as Vincom, Van Hanh Mall, and AB Beauty World chain stores, are also discounted impressively, from 40 percent to 80 percent, depending on the type.

At MM Mega Market An Phu in Thu Duc City and Hiep Phu in District 12, the Shopping Season 2022 program, with the highest massive discounts and promotions of up to 100 percent for more than 1,000 brands, has shown great attraction.

On the afternoon of June 22, despite the heavy rain, many customers still visited supermarkets in District 12 and Go Vap District to buy food. Some customers also hunted for promotional electronics and electrical devices at Nguyen Kim and Dien May Xanh. The price of some types of air conditioners at Nguyen Kim Electronics Supermarkets decreased from 6 percent to 40 percent, about VND1 million-VND5 million per item, with free installation fees, depending on the brand. Customers can also apply for installment purchases without interest rate but still enjoy other promotions from VND500,000 to VND1,000,000.

Up to now, although there is no specific data, the conclusion of improved purchasing power is completely grounded. Many businesses admit they are struggling to compensate for losses but still seek ways to offer the best price for customers.

For instance, Co.opmart, Go!, BigC and MM Mega Market have promotion policies. Besides, some agricultural product wholesale markets, such as Binh Dien, Hoc Mon, and Thu Duc, also commit to having the best wholesale prices for customers in retail markets, as well as people. Notably, for market-stabilizing products whose prices are about 5 percent-10 percent cheaper, especially poultry eggs, there is a situation that some stores go to supermarkets to collect them to sell at high prices.

"Petroleum prices have caused input material prices to go up by 30 percent-40 percent, while price-stabilized egg prices were still much lower than the market. For example, price-stabilized chicken eggs fetch VND31,500 per box of ten eggs, and duck eggs VND37,000; but the market price has jumped to VND40,000-VND45,000," said the leader of a business specializing in producing and trading poultry eggs.

According to Mr. Le Truong Son, Deputy General Director of Saigon Co.op, promoting promotions aims to share difficulties with consumers, contributing to reviving the purchasing power. Co.opmart and Co.opXtra systems have been offering big discounts on fresh products, processed foods, and cosmetics, with the motto of reducing prices but not quality.

Mr. Thai Son Vu, Director of WinMart Cong Hoa Supermarket, hopes enterprises will make the most of the promotion month to attract customers and boost sales. "Businesses at supermarkets have a stable and long-term source of goods, so the time to adjust prices will have a certain delay," Mr. Vu informed.

According to Bruno Jousselin, CEO of MM Mega Market Vietnam, the system has various promotional programs for consumers, including some items with discounts of up to 100 percent.

Mr. Nguyen Nguyen Phuong, Deputy Director of the Department of Industry and Trade, affirmed that the promotion month aims to build HCMC into the most attractive and modern shopping center in Vietnam. All programs launched are under the close supervision of the Department of Industry and Trade, as well as inter-sectoral forces and people, with a commitment to selling products at the right promotional price, ensuring quality, and avoiding the situation of mixing poor-quality and counterfeit goods.