Pentagon chief Leon Panetta clashed with US lawmakers Tuesday as he defended the withdrawal of US troops from Iraq next month, with the Obama administration coming under fire for the pullout.
In a charged hearing before the Senate Armed Services Committee, Panetta was grilled by Republican "hawks" who accused President Barack Obama of abandoning Iraq for his own political gain.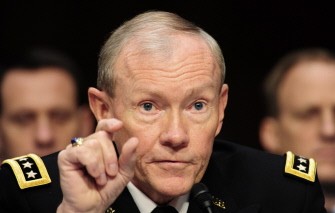 Chairman, Joint Chiefs of Staff Gen. Martin E. Dempsey testifies at a hearing of the Senate Armed Services Committee on November 15, 2011 on Capitol Hill in Washington, DC
In a testy exchange with Senator John McCain, the defense secretary rejected the lawmaker's charge that Obama failed to make a sincere effort to broker a deal with Baghdad to keep some US troops in place.
"That's not how it happened," Panetta insisted.
McCain, a Vietnam war veteran who pushed hard for the US troop buildup in Iraq in 2007, shot back: "It is how it happened."
Panetta voiced frustration with McCain's portrayal, saying Baghdad was not prepared to grant legal immunity to US forces and the United States could not simply decide what it wanted in Iraq eight years since a US invasion.
"This is about negotiating with a sovereign country, an independent country. This was about their needs," he said. "This is not about us telling them what we're going to do for them or what they're going to have to do."
Although the Iraqi government was ready to adopt legal protections for US troops, US officials wanted the country's parliament to ratify the safeguards but that proved too difficult, Panetta said.
"I was not about to have our troops go there... without those immunities," he said.
Panetta, however, left the door open to a future US military presence if requested by Baghdad, an apparent contradiction of previous White House statements.
"We're prepared to continue to negotiate with the Iraqis. We're prepared to try to meet whatever needs they have," he said.
McCain, defeated by Obama in the last presidential election, said the administration undermined the talks because it was either unwilling or unable to propose troop numbers or missions to Iraqi leaders early in the negotiations.
He and his fellow Republicans accused the White House of "political expediency" in pulling out troops and said it would leave Iraq vulnerable to the influence of neighboring Iran.
McCain said he believed the decision "represents a failure of leadership, both Iraqi and American, that it was a sad case of political expediency supplanting military necessity, both in Baghdad and in Washington" with serious consequences for Iraq and US national security.
The US military's top officer, General Martin Dempsey, told lawmakers he was concerned about the future of Iraq after the pullout and acknowledged that no commander had recommended a full withdrawal.
But he agreed that American forces could not operate without legal protections.
"In anticipation of the question about whether I'm concerned about the future of Iraq, the answer is yes," said Dempsey, citing Arab-Kurd tensions in the north.
The general said "this isn't a divorce" and that the United States would maintain a role advising the Iraqi army, including counter-terrorism training "inside the wire" at camps for Baghdad's special forces.
Panetta said he was confident Iraq could manage its security and counter Iran's influence. Baghdad's political leaders "basically reject what Iran's trying to do," he said.
Dempsey, chairman of the US Joint Chiefs of Staff, said the US was looking at its military footprint across the region in light of a "more assertive Iran."
Pending negotiations with Kuwait, the general said he favored regular deployments of US combat units in the Gulf emirate, including "ground, air and naval" forces.
Following the US invasion of 2003 that toppled Saddam Hussein's regime, US and Iraqi leaders agreed a security pact in 2008 during George W. Bush's presidency, which called for all American troops to leave by the end of 2011.
With only 24,000 US troops still on the ground, the withdrawal from Iraq is in full swing.
Instead of uniformed troops, the United States plans to employ up to 16,000 private contractors to handle security and other tasks in Iraq that were performed by American soldiers.
Senators at the hearing voiced worries that the State Department was not experienced in managing such a large number of contractors and that the cost was prohibitively high.
"Are there going to be risks associated with the contractors? Yes. I think that is the case," Panetta said. "Do we have any other alternatives? No."