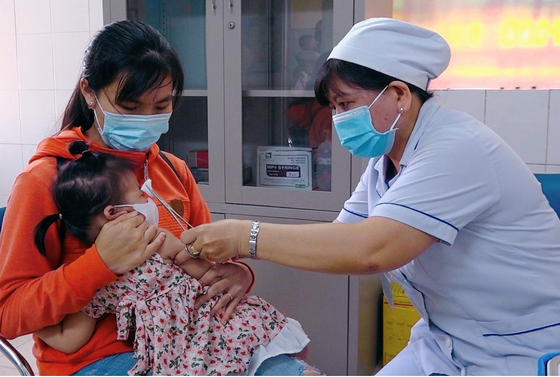 There is a shortage of some vaccines, including DPT and measles, in HCMC and some localities. (Photo: SGGP)
According to the NIHE, the EPI has been implemented in Vietnam since 1981 to provide free immunization services for children under one year of age, protecting them from some common and highly fatal infectious diseases. Up to now, 11 vaccines to prevent tuberculosis, diphtheria, whooping cough, tetanus, polio, hepatitis B, measles, Japanese encephalitis, cholera, typhoid, and Hib pneumonia/meningitis have been included in the program, making an important contribution to disease prevention and protection of children's health.

Every year, based on the needs of units and localities, the MoH assigns the NIHE to place orders and sign contracts with domestic vaccine manufacturers to supply some vaccines, such as DPT, tetanus, BCG, Japanese encephalitis, hepatitis B, measles, measles-rubella, and bOBV, for expanded immunization. The vaccines are managed and coordinated according to a strict process to ensure quality when delivered to regional Pasteur/Hygiene and Epidemiology institutes and then provided to localities and units to implement vaccination. The supply of vaccines is carried out according to the provisions of the law on price and procurement.

In 2022, the MoH has decided to assign the budget estimate and approve the vaccine order plan to the NIHE. According to the report of the NIHE and some localities, there is a shortage of some vaccines, including DPT and measles, due to incomplete ordering and contracting procedures.

The MoH has been drastically directing and urging the NIHE and vaccine manufacturers to urgently complete order procedures to have vaccines for vaccination. Specifically, vaccine manufacturers urgently develop a vaccine price plan in 2022 for the MoH to appraise and send to the MoF for consideration and approval as a basis for payment and settlement according to regulations.

Meanwhile, Ms. Duong Thi Hong, Deputy Director of the NIHE, said that the measles vaccine is produced by the Center for Research and Production of Vaccines and Medical Biologicals (POLYVAC), while the DPT vaccine is produced by the Institute of Vaccines and Medical Biologicals (IVAC).

Currently, all suppliers have vaccines in stock but cannot conduct trading and supply due to problems with procedures according to current regulations.

The NIHE has reported to the MoH and has been making efforts to coordinate with the MoF to soon complete the procedures to promptly supply vaccines to localities.

"The NIHE is striving to carry out the procedures to promptly supply vaccines to each locality. In the next week or 2-3 weeks at the latest, vaccines will be fully provided again so that people can get vaccinated on schedule," said Ms. Duong Thi Hong.