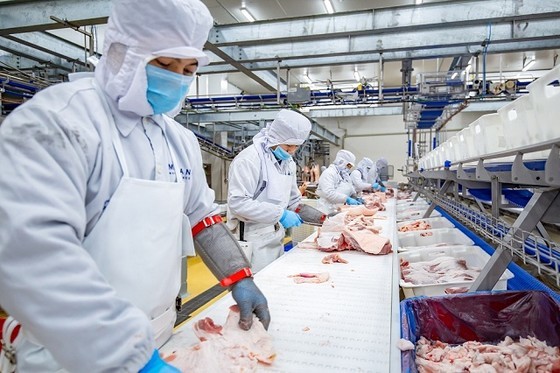 A standard slaughterhouse in Ha Nam Province
In its written request to people's committees in cities and provinces, the Ministry requested to strengthen the management of transport quarantine, control of animal slaughter, and ensure veterinary hygiene. Moreover, according to the Ministry, local governments should prioritize grassroots animal health centers.
As per the Ministry of Agriculture and Rural Development's figure, approximately 463 concentrated animal slaughtering establishments and over 24,000 small establishments were set up across the country, but the facilities in these establishments have not yet strictly complied with the provisions of the law. Additionally, the veterinary sector and related sectors in many localities have not well coordinated in paying visits to slaughterhouses to handle violations.
Therefore, the Ministry requested localities to urgently re-establish district veterinary stations under the Sub-Department of Livestock and Veterinary Medicine in addition to strengthening the capacity of the veterinary system as well as consolidating the capacity of the veterinary system at all levels according to regulations.
Provincial and municipal administrations were proposed to soon issue plans and have a roadmap to build a network of concentrated animal slaughtering establishments by the provisions of the Law on Veterinary Medicine and the Law on Planning.
The Ministry promulgated policies to call for and encourage investment in the construction of concentrated slaughterhouses.