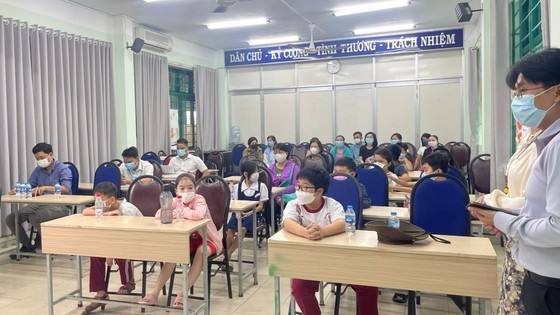 Medical workers provide examination to ill children
Accordingly, the Health Department stated that the Covid-19 epidemic and other infectious diseases are basically under control in the country, but infectious pathogens such as hand, foot and mouth, dengue, and chickenpox are at risk of spreading leading to an increase in infection cases.
To prevent disease outbreaks, the Ministry of Health suggested localities develop and implement plans for the prevention of infectious diseases, especially Covid-19. Departments of Health were urged to implement preventative measures against infectious diseases and be ready to respond to possible epidemic situations.
Furthermore, surveillance at the border gate, in the community, and in the medical field should be enhanced for early detection and timely treatment of outbreaks and patients to curb critical cases and death.
According to the Ministry of Health, although it is not yet the peak period of the epidemic which is around July to November during the rainy season, the country has recorded over 13,000 cases of dengue fever since the beginning of 2023, an increase of 2.3 times compared to the same period in 2022.
In related news, the Ho Chi Minh City Center for Disease Control (HCDC) said that it has just detected a cluster of influenza A (H1N1) cases in District 10; as a result, 20 students at Vo Truong Toan Primary School took unusual sick leave.
After receiving a notice from the District 10 Medical Center about an unusual increase in the number of sick leave students at Vo Truong Toan Primary School on March 16, HCDC quickly coordinated with Children's Hospital 1 and District 10 Medical Center to conduct epidemiological investigations and provided an examination for children.
In 2 days from March 15 to 16, roughly 20 students experienced symptoms such as fever, cough, sore throat, fatigue, and vomiting. Worse, some students had fevers up to 39 celsius degrees.
After examining the students with symptoms, the doctors initially suspected that the children had the flu and randomly took 6 samples for influenza testing. Samples were sent to the Pasteur Institute for isolation.
The test results of six samples were positive for influenza A (H1N1) later. Since March 17, the class has not recorded any new cases of symptoms. According to HCDC, in the first months of the year, Ho Chi Minh City recorded clusters of respiratory illnesses in schools in Binh Thanh District and recently in District 10. Children received timely treatment so it curbed the spread of the disease.