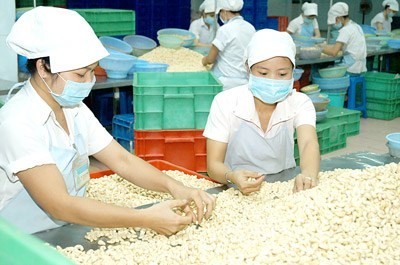 The forum debated solutions to intensify connectivity between businesses and farmers in applying science and technology and implementing the agricultural restructuring project approved by the Prime Minister to obtain the above targets.
Delegates at the forum said that the cashew industry should focus on deep processing, market development and material zone development; plant new varieties and replant old and low-yield cashew trees to increase productivity and output.
The ministry would side with businesses to solve policy problems to develop the industry, it affirmed.
According to the Department of Crop Production, Vietnam has obtained the biggest cashew nut export turnover in the world after 30 years of development. The country ranks second in processing and third in productivity and output.
In 2016, Vietnam exported 347,000 tons with the turnover of $2.84 billion and processed over 50 percent of the word's cashew output.
Despite leading in export turnover, the cashew industry has showed some limitations for instance output has been in down trend, cashew growers' income not high, added value low and degraded area on the rise.
Statistics from the ministry show that at present, local production output can meet only one third of the processing demand of over 300 businesses. Therefore, Vietnam has increased import from Cambodia, India, West Africa and Côte d'Ivoire. Last year, the country imported one million tons of raw cashew nuts.
Minister Nguyen Xuan Cuong said that the cashew industry still has many opportunities develop as the world's consumption demand is forecast to continue growing in the upcoming time.