The cholera-causing bacterium has contaminated Mekong Delta rivers, medical workers say, prompting local authorities to move against the use of river water for household activities, which is common in delta provinces.
Although the virulent vibrio cholera virus is usually found in mollusks living in brackish water, the bacterium has also been found living in fresh river water in the Mekong Delta province of Ben Tre, where over 30,000 households still use unclean water from rivers for cooking and washing.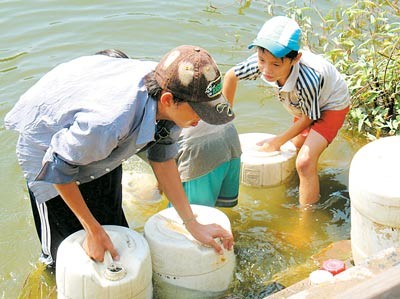 Residents in the Mekong Delta have the habit of using river water for cooking and washing (Photo: SGGP)
Experts have warned that the outbreak could become pandemic in Ben Tre.
Ben Tre provincial authorities have reported scattered occurrences of cholera in Mo Cay Nam, Mo Cay Bac, Thanh Phu, Chau Thanh and Giong Trom districts recently.
Local medical clinics have sent sanitization teams to affected areas to disinfect homes and workplaces and to distribute chloramines that can clean tainted water of the bacterium.
The Ben Tre Province People's Committee has ordered all ice manufacturers in the districts of Mo Cay Bac, Mo Cay Nam and Giong Trom to halt operations for ten days.

Ice makers are known for freezing unclean river water for sale. The order would be extended to the whole province if the outbreak of the disease is not curbed, local officials said.
Medical workers have cautioned that a vast outbreak of cholera could plague the Mekong delta if residents don't stop cooking and washing with tainted water.
Recent outbreaks stand as a stern warning.
The Mekong provinces of Ben Tre, Tien Giang, An Giang and City Can Tho have reported over 50 people infected with cholera and over 500 persons suffering from acute diarrhea.
After a three month hiatus, medical workers in An Giang province confirmed four cholera cases in the city of Long Xuyen and the neighboring district of Cho Moi. An Giang has had a total of 18 cholera cases since the beginning of 2010, but local experts have yet to track the cause of the infections.