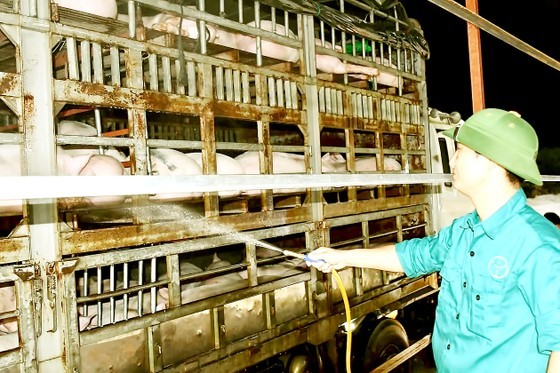 Live hogs imported into Vietnam via Lao Bao Border Gate in Quang Tri Province. (Photo: SGGP)
For the past week, in localities where pigs are raised a lot in the North, such as Hoa Binh, Bac Ninh, Hai Duong, and Ha Nam, the price of live pigs sold at the farm has sharply decreased to around VND41,000 - VND44,000 per kg. Southern provinces experienced the same situation in recent days.
Pig farmers lose VND2 million per quintal of live hogs
According to many pig farm owners, from August to October 2022, the price of live pigs nationwide fluctuated between VND63,000 and VND70,000 per kg. However, from November 2022 to early 2023, live hog prices slid to only VND51,000 - VND53,000 per kg. Up until now, the price has plummeted to VND41,000 per kg. In provinces with a high number of pig farms, such as Hoa Binh, Bac Ninh, Hai Duong, Ha Nam, and Soc Trang, the price of live pigs is at risk of declining further.
Despite the low pig price, pig farm owners still find it extremely difficult to sell pigs. Bui Thi Lan, a farmer in Tu Son Commune, Kim Boi District, Hoa Binh Province, said she has a herd of over 40 pigs. On March 14, three traders negotiated with her to buy pigs. Although she asked for a price of only VND41,000 per kg, they all left, saying that the pigs were oversized and hard to sell.
Similarly, Bui Thi Bat, a farmer in Vinh Tien Commune, Kim Boi District, is also worried because her herd of over 30 pigs, with each pig weighing over one quintal, has reached the time to be released from the farm, but she could not sell them in the past two weeks.
"With the pig feed cost of millions of Vietnamese dong per day, if this situation persists, we may even lose our investment capital. The effort put into raising pigs is all in vain," Bat sighed.
Mr. Nguyen Van Cuong, a pig farm owner in Cay Si Hamlet, Cap Tien Commune, Son Duong District, Tuyen Quang Province, shared that if he has to sell pigs at a price of VND45,000 - VND46,000 per kg, he will lose about VND1 million for each pig head compared to the production cost. At present, his farm has nearly 1,000 pigs. Based on the data of the Ministry of Agriculture and Rural Development, compared to August 2022, until now, live pig price has fallen by more than VND20,000 per kg, meaning each pig head loses up to VND2 million.
Imported pork is not the main cause
Many pig farmers believe that the reason for the continuous sharp drop in live hog prices is the large influx of imported meat. Meanwhile, domestically-raised pigs can no longer be exported to China via unofficial cross-border trade as in previous years.
However, data from the General Department of Vietnam Customs show that in 2022, Vietnam imported 680,000 tons of meat and meat products worth US$1.49 billion, down 6.1 percent in volume but up 7.3 percent in value compared to 2021. As for chilled and frozen pork, Vietnam imported 114,660 tons worth $249.35 million.
In January 2023, Vietnam only imported 35,440 tons of meat and meat products worth $74.13 million, down 45.7 percent in volume and 45.4 percent in value compared to December 2022, and down 34 percent in volume and 35 percent in value compared to January 2022.
As for pork alone, in January 2023, Vietnam imported 4,910 tons of pork and pork products worth $11.57 million, down 65.2 percent in volume and 66.5 percent in value compared to December 2022 and down 54.1 percent in volume and 50.9 percent in value compared to January 2022. Thus, the volume of imported meat has dropped sharply and is not the main cause.
According to the analysis and assessment of VNDirect Securities Company, the recent decrease in live pig prices is due to abundant domestic supply, while the unemployment rate has increased. The difficult economic situation has affected people's incomes, prompting them to tighten spending.
Meanwhile, according to Ipsos Vietnam Market Research Company, the trend of consuming chicken meat has increased in recent years, leading to a decrease in pork consumption. It is predicted that the pig farming industry may continue to experience a slump in 2023 and only improve from the third quarter of 2023 when the economy recovers and employment and workers' incomes are improved.
In the immediate future, to alleviate difficulties for farmers, Deputy Minister of Agriculture and Rural Development Phung Duc Tien has signed a document to request the Ministry of Finance to adjust the import tax on soybean meal from 2 percent to zero percent.