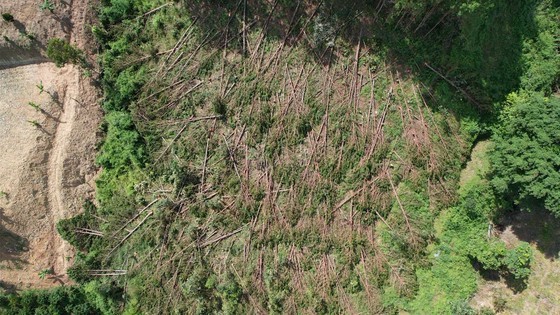 Pine trees have been illegally logged. (Photo: SGGP)

Among the 18 cases, 5 are violations on forest product management, 4 on forest exploitation, and 9 on logging. Compared to this time last year, the number of cases increased by 3, the affected surface area by 1.4ha, and the damaged forest products by 8.04 cubic meters.
In particular, on January 20, the Forest Protection Unit of Duc Trong District cooperated with the Management Board of Dai Ninh Protection Forest and the contracted forest protection force to pay a sudden inspection. They detected many people felling trees in sub-zone 275 (sited in Lien Hiep Commune). Inspection results revealed that three trees had been logged, with a total damage of nearly 6 cubic meters.
Three days later, the functions force discovered another case happening in sub-zone 263A (sited in Me Linh Commune of Lam Ha District). The affected surface area was 570 square meters, with 54 three-needled pine trees being felled and creating a damage of over 13 cubic meter.
Lam Dong Province People's Committee has asked the provincial police to direct corresponding its professional units to collaborate with the local police to urgently investigate, verify necessary information, and strictly handle these illegal deforestation cases.