Israeli President Shimon Peres said late Saturday "an attack on Iran" by Israel and other countries was "more and more likely."
He told Israeli private television's second channel: "The intelligence services of the different countries that are keeping an eye on (Iran) are worried and putting pressure on their leaders to warn that Iran is ready to obtain the nuclear weapon," Israeli media reported.
"We must turn to these countries to ensure that they keep their commitments ... this must be done, and there is a long list of options," Peres declared.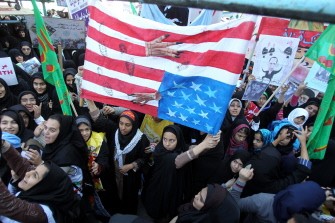 Iranian women hold up an upside down US flag outside the former US embassy in Tehran on November 4, 2011, during a rally to mark the storming of the American embassy by Iranian students 32 years ago.
Israel on Thursday completed a major civil defence drill in the Tel Aviv region aimed at simulating a response to conventional and non-conventional missile attacks, the military said.
Israel has also successfully tested what local media called a "ballistic missile", which a defence ministry official described to AFP as a long-scheduled "test firing of the rocket-propulsion system".
On Wednesday, Haaretz newspaper reported that Israeli Prime Minister Benjamin Netanyahu and Defence Minister Ehud Barak were seeking to win cabinet support for a strike on Iran, which Israel and the West suspect is looking to build an atomic bomb.
Haaretz said no decision had yet been taken on any military strike, and that a November 8 report from the International Atomic Energy Agency nuclear watchdog would have a "decisive effect" on the decision-making process.
Previous IAEA assessments have centred on Iran's efforts to produce fissile material -- uranium and plutonium -- that can be for power generation and other peaceful uses, and also in a nuclear bomb.
But the new update, which diplomats say will be circulated among envoys on Tuesday or Wednesday, will focus on Iran's alleged efforts to put the radioactive material in a warhead and to develop missiles to carry them to a target.
A poll published by Haaretz on Thursday found Israeli public opinion divided on a strike against Iran's nuclear facilities, with 41 percent in favour, 39 percent opposed and 20 percent undecided.
Iran, meanwhile, declared that it would "punish" Israel in case of an attack on its territory.
Israel has consistently warned all options remain on the table when it comes to Iran's nuclear programme, which the Jewish state and Western governments fear masks a drive for nuclear weapons.
Iran denies any such ambition and insists its nuclear programme is for power generation and medical purposes only.