Chairman of the Vietnam Steel Association (VSA), Mr. Nghiem Xuan Da gave a warning that global steel market has continued to face excessive production capacity at a recently held conference.

According to forecast of the World Steel Association, global steel growth outlook this year is expected to reach 1.82 billion tons, up 0.8 percent over the previous year. In China's market alone, in the first seven months of this year, raw steel production had reached 577 million tons, up 9 percent over the previous year and was expected to hit a production of 1 billion tons for the whole year, accounting for more than 50 percent of global steel production. Currently, steel production of Vietnam stood at the 17th place in the world with 14.5 million tons of steel in 2018.

'In recent years, Chinese government has closed old and outdated furnaces to reduce excess production and protect the environment. However, nearly 70 percent of new furnaces will be put into operation between the middle of this year and next year with additional capacity of about 61 million tons of steel this year and 62 million tons of steel next year. Although production capacity has dropped, unlike old furnaces, newly-built furnaces are able to operate at full capacity, so there is possibility that actual steel production will be higher,' said the representative of VSA.

Noticeably, globally, domestic steel consumption tends to slowdown, posing concerns about excessive steel supply to steel manufacturing industry. The same situation also occurred in the country which produces more than 50 percent of global steel production.

By August this year, steel sales for automobile manufacturing industry of China had been unable to achieve its target for 14 consecutive months. Sales of equipment made from steel also declined drastically. Therefore, the excess steel source caused by increasing production has been flooding into Southeast Asia and some other places, causing downward pressure on Asian steel market.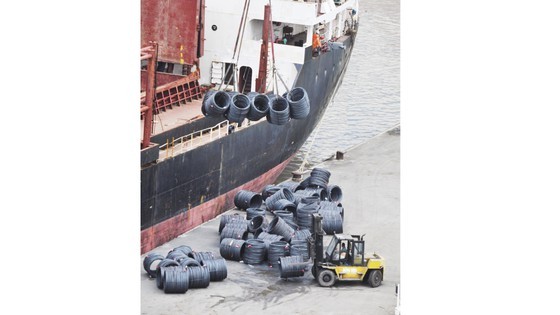 Unloading steel rolls at a port in District 7 in Ho Chi Minh City. (Photo: SGGP)
At this time, one of Vietnamese largest steel manufacturers located in Ha Tinh Province has to consider about halting its expansion plan due to concerns that the current situation might urge cheap steel products from China to Vietnam, causing the price of this material to plummet.

At the present, this steel plant are capable of producing 7.1 million tons of steel annually and has made a plan to build another furnace next year in order to raise capacity to above 10 million tons in the near future and 22.5 million tons in the future. For years, Vietnam imports more than 8 million tons of hot-rolled steel annually, of which 40 percent of steel comes from China. When steel is not being imposed tariffs, these cheap products will continue to land from China to Vietnam.

According VSA, steel manufacturing capacity has exceeded the demand of all kinds of steel, especially cold-rolled steel, corrugated galvanized iron and color coated roofing sheets and stainless steel. Currently, export of cold-rolled stainless steel has been facing difficulties because there are many large manufacturers in Southeast Asia and regional supply has already exceeded market demand.

In addition, export of steel to the US and the EU markets also encountered difficulties due to anti-dumping tax.

Domestic steel market, especially stainless steel, has been seriously affected by the landing of Chinese products. Therefore, in the near future, enterprises should not invest more into cold-rolled stainless steel projects because it will create fierce competition among manufacturers and lessen investment efficiency, the representative of VSA emphasized.

VSA recently also proposed authorities not to grant permission for new stainless steel projects in Vietnam so as to avoid imbalance between supply and demand as well as trade dispute among countries as steel manufacturers in the region tend to move production abroad, including Vietnam. They even agreed to sell their production at a loss to win more orders and cover fixed operating costs.

At the same time, VSA also recommended that the Government should only allow foreign investors to participate in high quality alloy and steel manufacturing projects which domestic market is short of.

Hot-rolled steel in Vietnam is listed at US$500 per ton, down 10 percent over the previous year. The price will decline further if steel imported from China increases. This will cause competition between domestic steel and imported one to escalate.