RALEIGH, North Carolina, Sept 1, 2010 (AFP) - Hurricane Earl quickly closed in on a large part of the US east coast on Thursday, as tens of thousands of people were ordered to evacuate North Carolina's barrier islands.
The strongest Atlantic storm of 2010 was on course to lash the coast of North Carolina and then move north, wreaking havoc on the end-of-summer Labor Day holiday weekend that usually draws millions to the beaches.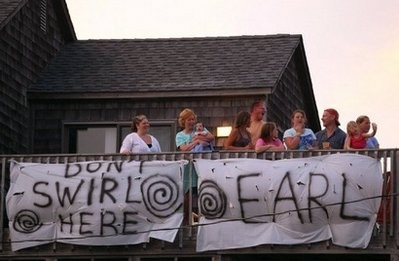 Holidaymakers stand on the balcony of a rented beach house in Avon, North Carolina. AFP
At 1:00 am eastern time (0600 GMT), Earl, a powerful category four storm, had sustained winds of 140 miles (220 kilometers) as it sped toward the eastern seaboard, the National Hurricane Center (NHC) said.
The eye of the storm was 460 miles (740 kilometers) south-southeast of Cape Hatteras in the Outer Banks -- a narrow band of North Carolina barrier islands.
Tropical storm force winds then hurricane force winds were expected to reach the state's coast later Thursday and a "dangerous" storm surge was due to raise water levels by up to three to five feet above ground level in the hurricane warning area, the NHC said.
"The surge will be accompanied by large and destructive waves," it warned, noting that large swells associated with the storm "will likely cause dangerous surf conditions and rip currents" through the weekend.
In a sign the hurricane season was heating up, the fourth storm in the past 11 days, Tropical Storm Gaston, formed in the Atlantic.
Gaston had winds of 40 miles (65 kilometers) per hour and was centered 1,585 miles (2,550 kilometers) east of the Lesser Antilles.
But forecasters warned the storm's track could well put it in the path of Haiti, a worst-case scenario now threatening to become reality for a nation still struggling to recover from a January earthquake.
Thousands of quake survivors remain in flimsy, makeshift, open air camps in and around the capital Port-au-Prince, and observers warn of a further humanitarian catastrophe if the area is hit by a major storm.
US officials meanwhile ordered a mandatory evacuation for tens of thousands of visitors plus the estimated 800 residents on North Carolina's Ocracoke Island, where ferry service is the only transport link with the mainland.
President Barack Obama signed a declaration of a state of emergency for North Carolina, opening the door to federal assistance.
"The timing is not good for folks trying to enjoy the last good summer weekend, but safety and protection of personal property comes first," said Cyndy Holda, public affairs officer at Cape Hatteras National Seashore.
The storm was expected to pass about 50 miles (80 kilometers) to the east of Hatteras Island, North Carolina's easternmost point, early Friday.
Earl was speeding north-northwest at 18 miles (30 kilometers) per hour, prompting watches and warnings along a wide area of the coastline as far north as Massachusetts.
A hurricane warning, meaning hurricane-force winds are expected, was in effect from the Bogue Inlet in North Carolina to the Virginia border.
A hurricane watch, which means dangerous conditions are possible, was in effect from the North Carolina-Virginia border to Delaware and further north to Massachusetts, including the tourist islands of Martha's Vineyard and Nantucket.
Tropical storm warnings or watches were in effect around the Chesapeake Bay and parts of the New Jersey coast.
National Park officials anticipated a heavy storm surge on Hatteras Island as early as Thursday, when high tide occurs, possibly resulting in road closures.
Briefed by top disaster response aides, Obama said officials were preparing for the "worst case" scenario and would do all they could to protect vulnerable east coast communities.
Airlines said they may cancel flights if conditions worsen.
"Storm conditions are expected to make air travel difficult along the East Coast, forcing some delays and cancellations of flights at airports in the region, including at its New York hub at Newark Liberty International Airport," Continental Airlines said.
Projections showed Earl could remain a powerful storm as it moves toward New England and possibly on to Canada's Atlantic provinces.
Earl, which brushed past Puerto Rico on Tuesday, pummeled the Bahamas and eastern Caribbean with rain and heavy winds that downed trees, damaged homes, blocked roads and snapped power lines.
Earl comes on the heels of Hurricane Danielle, blamed for rough surf and riptides in New York and New Jersey last weekend.
Tracking closely behind Earl was Tropical Storm Fiona, moving northwestward of Puerto Rico, packing top winds of 60 miles (95 kilometers) per hour, with no immediate threats to land areas.
It was expected to gradually weaken in the coming days.