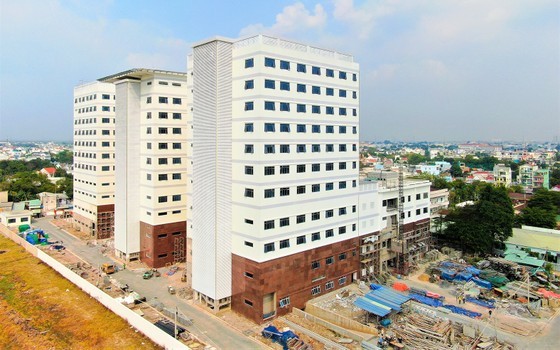 The construction project of Hoc Mon General Hospital is coming to an end

At the end of this March, hundreds of engineers and bricklayers are busy finishing sections of Thu Duc General Hospital (in Thu Duc City). Engineer Ly Bich, head of the project, informed that the rough construction of the hospital, including 10 floors and 1 basement floor, has completed one month ahead of schedule, and the whole project will end this December.
Similarly, the building of Cu Chi General Hospital (in Tan An Hoi Commune of Cu Chi District) with 13 floors and 1 basement, 1 technical floor (total investment of VND1.85 trillion – US$78.7 million) as well as Hoc Mon General Hospital with 12 floors and 2 basement floors (total investment of VND1.9 trillion - $80.8) will have finished by the end of this year despite certain negative impacts of the latest pandemic and other unexpected factors.
Happy as it is, Director of Thu Duc General Hospital Cao Tan Phuoc is concerned about the finance source to buy medical equipment for the hospital to operate. "Our hospital needs VND1.5 trillion ($63.8 million) to purchase medical devices and tools. We have sent the list of urgently needed equipment to higher levels several times, but received no response yet. Without them, it is impossible to perform our professional job", said Director Phuoc.
The Management Board of Industrial and Civil Engineering Construction and Investment Projects of HCMC stated that the city allocates VND5.66 trillion ($241 million) just for the construction of the above hospitals in order to lessen the workload of highest-leveled hospitals in the city and improve healthcare service provision to patients at grassroots hospitals not just in HCMC but in neighboring provinces as well. However, the medium-term public investment capital of the city for the 2021-2025 period is not sufficient to distribute to medical equipment purchases as there are other priorities to take care of.
Aware of this, HCMC People's Committee has sent five formal dispatches to the Planning and Investment Ministry and the Finance Ministry to ask for central budget in the 2021-2025 period for this necessary investment in the three above hospitals.
Notice No.250/TB-VPCP, issued on August 17, 2022 by the Government Office about the Prime Minister conclusion after the working session with HCMC, clearly states that the Prime Minister direct HCMC People's Committee to review and adjust its medium-term investment plan for the 2021-2025 period to transfer the capital from projects that are not truly urgent and use money from other legal sources to supply these three hospitals.
Meanwhile, related ministries are asked to cooperate with HCMC People's Committee to propose measures to gain additional capital for the three hospitals from projects that cannot be disbursed or from other lawful sources.
To adopt this Notice, HCMC has just taken money from its medium-term public investment plan in the 2021-2025 period to deliver VND3 billion ($127,600) to each hospital for medical equipment buying. At present, there is no other capital amounts yet to satisfy this demand.
In order for the three hospitals at HCMC gateways to operate soon, HCMC People's Committee proposed that the Ministry of Planning and Investment try to increase revenues for the 2022 central budget while reducing spending to have a sufficient amount of VND4.5 trillion ($191.4 million) to distribute to these hospitals for medical equipment purchasing. HCMC People's Committee commits to implementing and completing the tasks in the 2023-2025 period.