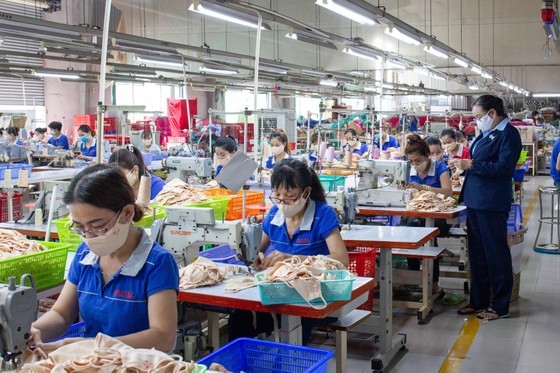 HCMC gets ready for new foreign investment wave.
Statistics from the Foreign Investment Department under the Ministry of Planning and Investment, as of August 20, total registered foreign direct investment capital in Vietnam reached nearly US$18.15 billion, a year-on-year increase of 8.2 percent. Thus, foreign investment capital has continued to pour heavily into Vietnam for a long time. According to Deputy Director of the Foreign Investment Department Do Van Su, up to this point, up to 60 percent of investment capital in Vietnam is in the field of processing and manufacturing industry.
Due to the provisions of land law, businesses operating in these fields have the only way to go into industrial parks, export processing zones, and economic zones. Therefore, investors pay much attention to industrial parks, export processing zones with complete infrastructure. Notably, investment capital flows have undergone a major shift, with more investors appearing from Germany, the Netherlands, Spain, and North America.
A leader of the Foreign Investment Department revealed that the agency has recently welcomed large US corporations to study investment opportunities. Amongst them, 32 members of the US Semiconductor Association came to learn about Vietnam as a destination where they will carry out semiconductor and chip manufacturing projects.
Subsequently, many localities are making great efforts to attract foreign investment with preferential policies of land, and abundant and cheap laborers, and Ho Chi Minh City is forced to participate in the race to attract foreign investors. With a large market of more than 10 million people and the advantage of high-quality human resources, Ho Chi Minh City is considered a destination of great interest to foreign investors.
However, experts and managers advised that Ho Chi Minh City should select foreign investors with the goal of capital flows in high-tech fields so that the southern metropolis will attract over 50 projects in 2025.
Currently, Ho Chi Minh City has only attracted 7 projects with about US$250 million that means over the next 2 years, the city ought to attract at least 43 more high-tech projects with $2.75 billion investment capital, said one economist.
HCMC increases land fund and catches up with green trends
Ho Chi Minh City is urgently implementing a project with an orientation to the development of industrial parks and export processing zones by 2030 with a vision to 2045. In particular, to solve the shortage of land funds, Ho Chi Minh City has piloted building of high-rise factory models in a number of industrial parks and export processing zones. This has proved the efficiency of industrial production land funds, saved resources, and met the needs of businesses and attracted new investors.
The first 8-storey factory was built in Tan Thuan Export Processing Park, and later, many high-rise factories were seen in Hiep Phuoc Industrial Park, Linh Trung I Export Processing Park, and Dong Nam Industrial Park. Priorities were given to factories without risk of environmental pollution, no toxic waste, dust, unpleasant odors, fire, or explosion.
In addition, the Prime Minister has recently agreed to add Ho Chi Minh City-based Pham Van Hai I and Pham Van Hai II Industrial Parks to the development planning of Vietnam's industrial parks (IPs). In the context that there have been no new industrial parks for many years, the addition of the two industrial parks with a total area of 668 hectares to the country's planning has opened up opportunities to develop new-style industrial parks in the southern largest city.
According to Deputy Head of the HCMC Export Processing Zone and Industrial Park Authority (HEPZA) Tran Viet Ha, Ho Chi Minh City will proactively build Pham Van Hai I and Pham Van Hai II industrial parks in accordance with the city's development orientation. The Prime Minister's approval to supplement the planning prompted Ho Chi Minh City to implement its plan for the formation of these two new industrial parks. The implementation of Pham Van Hai I and Pham Van Hai II Industrial Parks is also considered favorable, as the entire 668ha of planned for the projects does not have residential land but agricultural land managed by a company under Ho Chi Minh City People's Committee.
The city also takes heed of green development. Hiep Phuoc Industrial Park in Nha Be outlying district is currently the only industrial park in Ho Chi Minh City participating in the project 'Deployment of eco-industrial parks in Vietnam following the approach from the global eco-industrial park program' by the Ministry of Planning and Investment and the United Nations Industrial Development Organization.
The HEPZA Management Board assessed that some circular economic activities in Hiep Phuoc Industrial Park have initially brought good results. Furthermore, the model of industrial symbiosis - the sharing of a by-product or service that would otherwise have been disposed of or underused in order to minimize waste and maximize the utility of resources - is being applied more and more. This is a very new approach, converting the model from traditional industrial parks to ecological industrial parks with sustainable development.
Chairman of HCMC Industrial Zones Businesses Association (HBA) Dao Xuan Duc said that many corporations investing in Ho Chi Minh City declared that by 2030 they will only use renewable energy and other solutions for production following global commitments. However, renewable energy investment is also a present obstacle.
Therefore, the association proposed to the Ministry of Industry and Trade to develop solar power on factory roofs, because the ministry only has regulations on installing rooftop power panels in households but does not have instructions for enterprise factories. If businesses are allowed to install rooftop electricity, they can reduce their monthly electricity bill by at least 30 percent, and will especially support exporters obtaining green certificates - a tradable commodity proving that certain electricity is generated using renewable energy sources.