Representatives of the Department of Industry and Trade, SGGP Newspaper and Saigon Co.op cut the ribbon to launch the fourth Green Consumption Campaign in 2023. (Photo: Hoang Hung)
This is a practical activity to contribute to the implementation of the National Strategy on Green Growth towards Sustainable Development in Ho Chi Minh City in the 2021-2030 period issued by the Ho Chi Minh City People's Committee.
Speaking at the launching ceremony, Mr. Phạm Trường, Deputy Editor-in-Chief of Sai Gon Giai Phong Newspaper said that the Green Consumption Campaign is an annual activity that the newspaper collaborated with Saigon Co.op to open in June.
The campaign is to call for everyone to prioritize the usage of environmentally friendly products, thereby, establishing new consumption habits in society and consumption for the environmental benefits.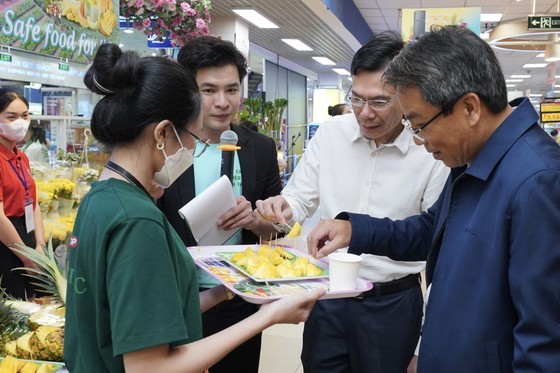 Leaders of SGGP Newspaper and Saigon Co.op experience green products at Co.opmart Ly Thuong Kiet supermarket in District 5. (Photo: Hoang Hung)
Within the framework of the 14th Green Consumption Campaign, the organizers will implement many activities, including building the corporate brand communication strategy associated with environmental corporate social activities.
Vice General Director of Saigon Co.op Le Truong Son said that in addition to accompanying community activities with SGGP Newspaper, the entire retail system of Saigon Co.op including Co.opmart, Co.opXtra, Co.op Food, Co.op Smile, Cheers, Finelife and so on have also strengthened cooperation with hundreds of prestigious brands to launch many activities and programs towards the environment protection.
The notable event of this campaign is the Green Trade Forum in 2023 with the theme "Green Trade - Challenges and Development Prospects of Enterprises" which will take place on June 14, aiming at raising public awareness about the green economy and circular economy towards sustainable economic development, seeking solutions to promote the green economy and circular economy in the city in particular and the whole country in general.