ATHENS, Nov 10, 2011 (AFP) - Greece's new leader Lucas Papademos on Thursday steeled his country for tough times ahead, as he assured Greeks of the need to stick with the euro after being named to head a crisis government.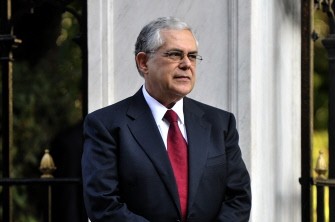 AFP - Newly appointed Greek Prime Minister Loukas Papademos stands outside the Presidential Mansion in Athens on November 10, 2011.
But Athens' European peers, who had watched with anxiety as power-sharing talks dragged on for four days, insisted on "strong cross-party" reassurances from the new team that will be sworn in on Friday.
Welcoming the designation of a new interim prime minister, EU president Herman Van Rompuy and European Commission chief Jose Manuel Barroso said: "It is important for Greece's new government to send a strong cross-party message of reassurance to its European partners that it is committed to doing what it takes to set its debt on a steady downward path."
Giving his maiden speech moments after receiving a mandate from Greece's president, Papademos, a respected former vice-president of the European Central Bank, said the crisis-hit country was at a crossroads as bankruptcy loomed.
"The Greek economy is facing huge problems despite the enormous efforts made," the 64-year-old told a huge crowd of journalists outside the presidential mansion after political leaders took four days to appoint him.
"Greece is at a crucial crossroads ... the course will not be easy," he said.
He called on Greeks to pull together as the country faces up to its worst economic crisis in decades.
"The problems will be resolved faster ... if there is unity, cooperation and wisdom," said Papademos, who will head the transitional government until new elections are called.
The Athens market gained ground when his appointment was announced, but later slumped to losses of 0.72 percent shortly before closing.
Papademos, a former central banker who played a crucial role in Greece's entry into the eurozone nearly a decade ago, emphasised its benefits after weeks of speculation that Greece's problems could force it out of the 17-nation currency club.
"I am convinced that the participation in the eurozone is a guarantee of fiscal stability and a factor in economic prosperity," he said.
The United States said it "welcomed" Papademos' appointment and hailed what it called "the consensus that's been reached in Greece on the need to implement the country's reform commitments to the IMF as well as the European Union," said State Department spokesman Mark Toner.
Papademos said the new team's main task was to implement the terms of the vital EU bailout deal, but added that "no exact time" had been set for elections, initially pencilled in by the main political leaders for February.
His first job is to persuade the European Union and International Monetary Fund to disburse an eight-billion-euro ($11-billion) slice of aid from a 2010 bailout deal that is needed by December 15.
Then he must force through painful austerity measures exacted as the price for a second EU bailout package which gives Athens 100 billion euros in loans, the same amount in debt reduction and a further 30 billion in guarantees.
Drawing a firm line in the sand, crisis-weary France and Germany last week gave Athens a stark choice: pass these belt-tightening measures or leave the euro.
And highlighting the parlous position of the Greek economy, the European Commission said it had abandoned all hope of a climb out of recession next year, tipping another 12 months of economic contraction for the incoming government.
The previous EU forecast of 1.1-percent growth was ripped up -- with a 2.8 percent contraction now expected in 2012 after a brutal 5.5-percent recession this year.
Greek statistics showed unemployment in August -- the peak of the country's busy tourism season -- at 18.4 percent with over 900,000 people out of work.
Representatives of three Greek political parties met Thursday with Papademos to discuss ministerial posts, and afterwards a leader of the main opposition New Democracy party said conservatives would have a "substantial" representation in the coalition government.
It was not yet known who would hold the key post of finance minister, but Greek media has said it could remain in the hands of Greece's number two socialist, Evangelos Venizelos.
Papademos and his new government team will be sworn in Friday at 1200 GMT, the president's office said.
Soft-spoken and low-key, Papademos is seen by many as the safe pair of hands needed to haul Greece back from the brink.
"It is a great honour and the responsibility I undertake is greater still. I am not a politician, but I have dedicated the greater part of my life to economic policy," said the new premier-in-waiting.
The dramatic appointment of Papademos capped a chaotic week in Greece that ranged from drama to outright farce.
Outgoing Prime Minister George Papandreou started the ball rolling last Monday when he shocked the rest of Europe by announcing a referendum on the EU bailout deal, sending markets worldwide into meltdown.
The surprise call for a popular vote also sparked a revolt in his own party and forced Papandreou to announce he would step down in favour of a unity government backed by the two main parties.