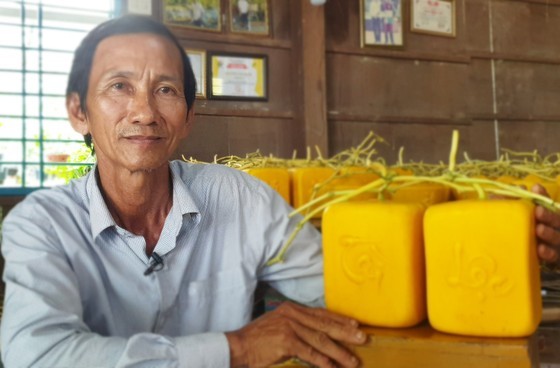 Farmer Tran Van Cung and his special watermelons
A pair of watermelons shaped like gold bars that bear the words 'Tai – Loc' ( money and prosperity), priced at VND1.5 million. A watermelon farmer in the Mekong Delta Province of Dong Thap sold the special watermelon in the southern metropolis's market during when Tet holiday (the Lunar New Year) for VND1.5 million a pair and the lowest VND600,000 a pair.
Accordingly, 58-year-old farmer Tran Van Cung in Phong Hoa Commune of Dong Thap Province's Lai Vung District sold a pair of watermelons for displaying during the Tet holiday.
It is known that Mr. Cung has experience in growing melons with special shapes for more than 10 years. In preparation of the Lunar New Year 2023, Mr. Cung planted about 4,000 lines of Kim Hong watermelons with yellow skin and red flesh in his 3,500 square meter orchard.
Amongst them, Mr. Cung selected 600 well-developed watermelon plants to create a square and gold bar and used a mold to engrave the words "Phuc - Loc" or "Tai - Loc" on each melon.
After about three months of meticulous care, Mr. Cuong collected about 100 square watermelons and 100 gold-bar-shaped watermelons.
Mr. Cung sold a pair of first-grade melons for VND1.5 million while second-grade melons are priced at VND600,000 a pair.
Although the Lunar New Year 2023 will come a week later, most of the shaped melons have been sold out due to pre-orders, and the rest are sold in Ho Chi Minh City.
Because this melon has an eye-catching yellow skin, high sweetness, and long shelf life, it is favored by many guests to display on the ancestors' altar during Tet holidays.