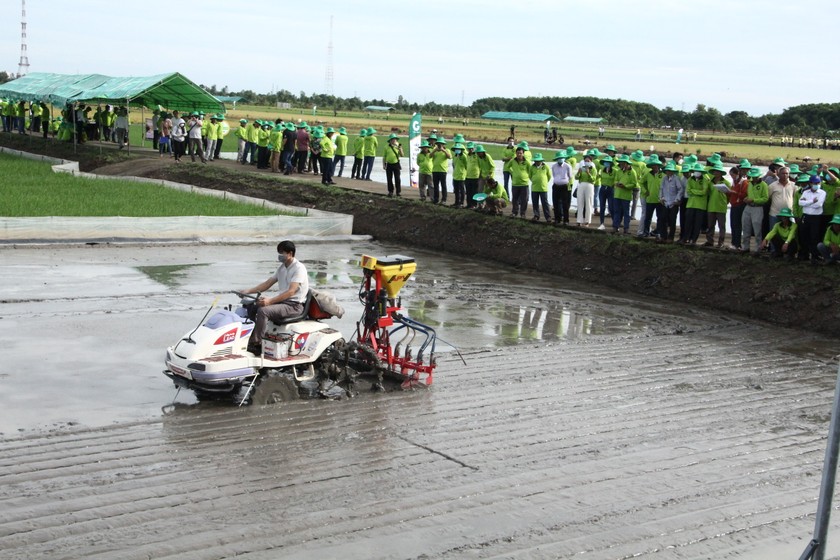 Farmers in the Mekong Delta are learning new techniques to implement machines in farming activities

As the year 2022 was coming to an end, Chairman Nguyen Van Dung of the Board of Bio Fruit Coop (sited in Hau Giang Province) successfully finished his business trip to France and Thailand for more fruit export orders. The Coop's Director Tran Ba Son, meanwhile, was busy helping member to perfect their farming techniques in accordance with Global GAP Standards and expanding fruit growing areas in the districts of Phung Hiep, Chau Thanh A, Long My and Ngay Bay City.
Bio Fruit Coop, co-founded by Dung and Son in March 2020, received its first export order of seedless lemon under Global GAP Standards only 5 months after establishment, followed by another order of 800 tonnes of fruits in the same year. This is an impressive commence of these 8X-generation farmers. The Coop aimed at selling 3,000 tonnes of tropical fruits of all lemon and grapefruit to Europe for an export turnover of VND100 billion (US$4.26 million).
The key to this inspiring success lies in the Coop's higher produce buying prices of around VND2,000 ($0.085) per kilo compared to regular ones, which is highly encouraging to farmers. In addition, the Coop supplies members with materials at below-market prices by 10-20 percent and sends specialists to help farmers monitor their orchards weekly.
Another notable advanced farming model is the 'closed-loop circular economy' to grow cantaloupe melons in greenhouses of Ngu Thuong Mekong Co. Ltd. in Phung Hiep District. Its Director Lu Thi Nhat Hang informed that the discarded straw after growing melons is used as cattle feed for cows or the base to nurture mushroom. Cow dung is then processed to raise earthworm, which is later turned into feed for fish and poultry or manure to boost the growth of melons.
Also implementing new farming models is Thuan Nong Coop, located in Kien Giang Province. It has participated in the Green Innovation Centers (GIC) project, held by GIZ in Germany. Its 18 members are following the organic working style on a surface area of 38ha.
In the dry season, they raise black tiger shrimps together with sea crabs in their ponds; while in the rainy season, they grow rice and raise giant river prawns there. Along the pond banks, short-term crops such as corn, watermelon are planted to increase income and create an ecological environment to attract natural enemies to protect crops.
Thanks to a closed-loop farming process and the use of natural fertilizer with the help of modern machines, farmers can easily collect monitoring data to provide to buyers as requested so that the latter knows in detail the development of the purchased produce.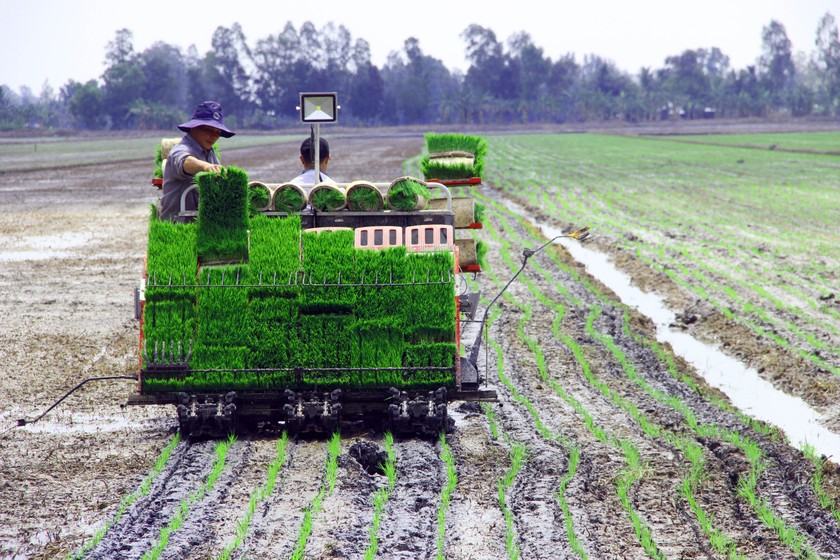 Farmers in Hau Giang Province are using machines to sow rice seeds

Agricultural experts commented that in order for domestic produce to be accepted internationally, it needs to satisfy popular worldwide standards like Global GAP. Highly aware of that, many farmers in Vietnam have tried to adopt measures to meet these standards. The results are that in 2022, Ben Tre Province was able to export its first container of grapefruit to the US; Loc Troi JSC successfully sold its rice to supermarkets in France; and Tan Long Corp. exported its ST25 rice to Japan.
The establishment of large-scale fields and orchards need highly experienced farmers. 63-year-old farmer Can Van Tan is one of the 10 people with the largest rice fields in Nui Sap Town of Thoai Son District in An Giang Province. By adding all his fields to Binh Thanh Coop, he is collaborating with Loc Troi JSC to form what is called the 'footprint-less field', where most growing stages are the responsibility of machines.
Under this model, Loc Troi JSC frequently sends its agricultural specialists to support farmers on their fields. Tan himself invested VND650 million ($27,700) to buy a 3-in-1 drone that can monitor the field, sow rice seeds, spread fertilizer and pesticide.
In another place, Trung An Hi-tech Farming JSC in Can Tho City has chosen to adopt the big-field model. Accordingly, the company first delivers necessary materials and equipment to farmers at the beginning of the crop, along with specialists to help those farmers understand and apply modern farming techniques in compliance with standards used by produce purchasing nations. As a result, the company was able to export the first rice consignment to Europe with zero tax.
Obviously, farmers and agricultural businesses in the Industry 4.0 period such as Bio Fruit Coop, Loc Troi JSC, Trung An Hi-tech Farming JSC, and Tan Long Corp. in the Mekong Delta have been quick in mastering and implementing cutting edge technologies to in farming activities for the sake of increasing their profit and ensuring a sustainable success.