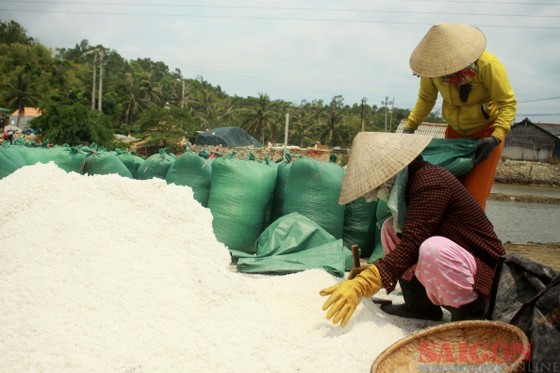 The salt industry in Sa Huynh has a long history and has successfully built a brand. (Photo: SGGP)

Mr. Nguyen Huu Chanh, Chairman of Salt No.2 Cooperative, on February 5, said that the cooperative alone sold 1,500 tons of salt at the highest price ever of VND4,000 per kg. The demand for salt remains high, but salt farmers have no salt left to sell. Currently, salt farmers are renovating salt fields and carrying out production, so it will take more than one month to have salt to supply to the market.
Salt production in Quang Ngai Province is concentrated in the Sa Huynh area in Pho Thanh Ward of Duc Pho Town. Salt field has a total natural area of 144.7 hectares, of which the production area is about 100 hectares.
Mr. Gia Tan Tau, Vice Chairman of the People's Committee of Pho Thanh Ward, said that nearly 5,000 tons of salt were harvested in the last salt crop. As the price of salt climbs high, salt has been sold out, and there is no salt inventory in the area.
Currently, the salt production on Sa Huynh salt fields is carried out in conventional soil evaporation ponds and those with HDPE liners. There are three salt processing companies in the province, with a capacity of 5,000 tons of salt per year.
The selling price of salt usually ranges from VND3,600-3,800 per kg and is currently standing at the highest level, making the local salt market prosper.
With a typical terrain near Nuoc Man lagoon with abundant sea water, high salinity, less pollution, and relatively flat terrain, the salt production in Sa Huynh is favorable. The salt industry in Sa Huynh has a long history and has successfully built a brand.
At the end of 2022, the Department of Agriculture and Rural Development of Quang Ngai Province proposed to the Ministry of Agriculture and Rural Development to pay attention to and advise on adjusting capital sources to implement projects on upgrading infrastructure and solidifying the irrigation system for Sa Huynh salt field, with an estimated investment of VND60 billion in the 2026-2030 period.