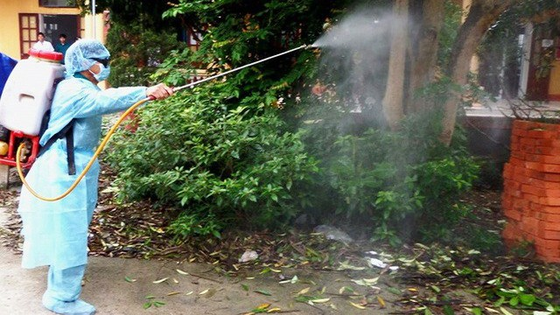 Health workers spray chemical to kill larva
According to the Ministry of Health, from the beginning of 2023 to now, the country has recorded over 13,000 dengue cases, 2.3 times higher than the same period in 2022 without deaths. The number of dengue cases is concentrated mainly in some provinces in the South and Central regions.
In the face of increasing dengue cases, although it is not yet the peak period of the epidemic which is around July to November during the rainy season, the Ministry of Health asked people's committees of provinces and cities to direct departments of Information and Communications, information agencies and departments of health to strengthen communication on dengue epidemic prevention and control. Local authorities, departments, agencies, organizations, and people were encouraged to prevent and control dengue.
An environmental sanitation campaign to kill larvae was launched in every city and province in the country. The Ministry of Health requested the preventive health system to closely monitor the epidemic development in the area to early detect and thoroughly handle dengue outbreaks in the locality according to the guidance of the Ministry of Health.
Medical examination and treatment establishments must ensure adequate drugs, equipment and treatment machinery in addition to good treatment of patients.
Large hospitals should send personnel to help grassroots healthcare facilities in treating dengue patients. The Ministry of Health also proposed localities inspect dengue prevention and control in hot spots and areas at risk of outbreaks.