The medical case of the conjoined twins, born last Tuesday (Oct 12) in Soc Trang Province is very complicated, concluded the Council of Medical doctors at Pediatric Hospital 1 in Ho Chi Minh City.
The twins had CT scans done of all their organs at the HCMC medical centre on Monday, to determine the state of their internal organs. Tests showed they had two attached hearts, two spinal columns, two brains, two kidneys, two stomachs but only one liver which was in good condition.
The twins were born with two heads and two legs. The Council of doctors said this was an extremely rare case.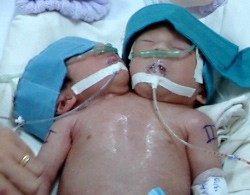 The conjoined twins are under medical care of Pediatric Hospital 1.

One of the twins might have to be sacrificed if surgery was done since they only had one liver, urinary tract and female sex organ, said Dr. Dao Trung Hieu, deputy head of the HCMC Pediatric Hospital 1.

But a thorough and lengthy examination is required before doctors make any decision to operate.

Before the babies were born, their mother Lam Thi My Dan of Chau Thanh District was unaware of the problem that was to unfold.

Ultrasound tests during her pregnancy had shown two separate heartbeats.

The babies were taken to Pediatric Hospital 1 the day after being born for evaluation.

Dr. Hieu added that if both were healthy and surgery ruled out due to various complications then the conjoined twins would grow up in their current state.