A 12.5-kilometer metro line with a total of investment capital of over VND18 trillion (US$900 million) broke ground in Hanoi on September 25.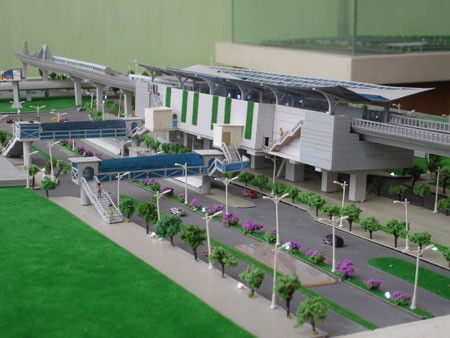 Model of the metro line
Prime Minister Nguyen Tan Dung ordered the start of construction of the first metro line linking Nhon in Hanoi's Tu Liem suburban district and the Hanoi railway station in the inner district of Hoan Kiem.
The project, one of five big projects, was started the construction on the occasion of the 1,000th anniversary of Thang Long – Hanoi.
This also is the first of five metro lines to be completed by 2020.
Addressing the ground-breaking ceremony, PM Dung pointed to the project's importance for the capital city's construction and development, saying that it aims to raise capacity of public means of transport, meeting travelling demand and easing traffic congestions in the inner city.
He urged the municipal authorities to join hands with relevant agencies to accelerate other public transport projects.
There will be 12 stations along the line including 4km underground, which is designed for a maximum speed of 80 km per hour and capable of serving over 900 passengers at the same time.
The stations will be connected to bus stops and other urban railway lines and it will be very convenient for passengers to travel the whole length of the line in about 20 minutes.