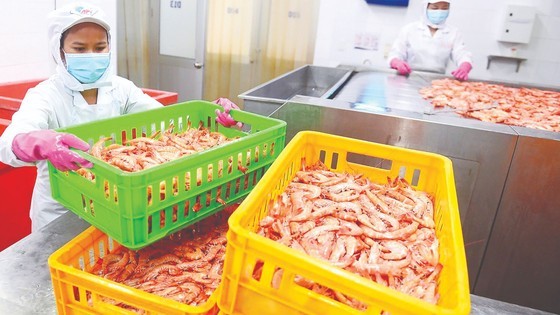 Workers in Saigon Aquatic Products Trading JSC. are on duty. (Photo: SGGP)

A visit to Tan Quang Minh Manufacture and Trading Co. Ltd (sited in Vinh Loc Industrial Park in Binh Chanh District of Ho Chi Minh City) reveals a bustling working atmosphere. General Director of the company Nguyen Dang Hien shared that the employees are busy processing large orders from China, Japan, Thailand, and other neighboring nations. He commented that despite the fluctuating economic situation worldwide, the revenue of his company last year exceeded the target by 60 percent, which was quite promising.
General Director Nguyen Xuan Vu of Xuan Nguyen Group shared that his enterprise is operating all of its produce processing chains to prepare merchandise for both the local market and export orders, mainly to China. Its key products are health boost ones, which possess great competitive advantages thanks to domestic input materials. At present, his organization is financially and technically cooperating with 236 farms nationwide to raise bees for honey, to grow ginger, tuber fleeceflower, providing job for over 2,000 local residents.
Many foreign businesses said that they are planning to invest in Vietnam to enjoy its export advantages not only to China but also to the European and American markets. European Chamber of Commerce in Vietnam (EuroCham) informed that 41 percent of surveyed European companies are moving their factories to Vietnam, while 35 percent agreed that the country is in the top-5 ideal place for investment in the world.
The main reason for this is that new generations of free trade agreements signed by Vietnam provides chances for those businesses to cut taxes, save material costs thanks to import tax exemption, and increase the internal power of their supply chains. Therefore, the number of export orders placed to enterprises sited in Vietnam is likely to increase.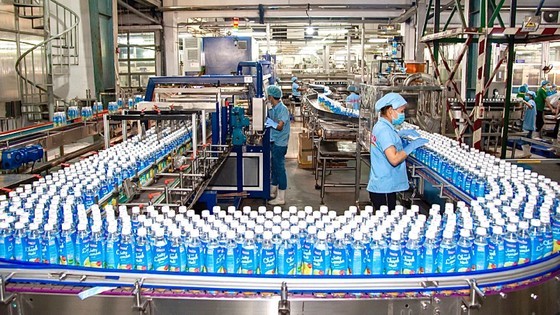 The manufacturing line for beverage of Tan Quang Minh Manufacture and Trading Co. Ltd (Photo: SGGP)

Chairman Alain Cany of EuroCham shared that activities of Foreign Direct Investment (FDI) companies in the country are smoother, and economic opportunities of Vietnam continue to surpass those of its neighboring competitors. As a result, many EuroCham's members consider this nation as a promising destination in their global investment strategy.
However, some FDI companies have pointed out legal barriers that still exist in Vietnam and are in need of elimination. In particular, there is a lack of clarity as to rules and regulations for administrative procedures, visa and work permit issuance. In addition, domestic businesses are facing a capital shortage to expand their manufacturing facilities and increase the material sources.
Chairman Nguyen Ngoc Hoa of HCMC Union of Business Association (HUBA) said that right now, the loans with preferential interest rates only answer the demands of companies with a wish to expand their factories or manufacturing chains. Those needing working capital for production activities have to pay an interest rate of 12 percent, which is extremely hard to earn profit and accumulate more capital.
Therefore, he proposed that loans should be more diverse and flexible to better support domestic businesses. HUBA is going to host various trade promotion activities to connect companies and their potential clients, in hope of increasing the number of orders to these enterprises.
In related news, Ngo Xuan Nam, Deputy Director of Viet Nam Sanitary and Phytosaniary Notification Authority and Enquiry Point (Vietnam SPS) informed that effective as of January 8, 2023, China cancels all Covid-19 monitoring and detection measures for food preserved via cold storage as well as that with cold storage imported from ports. This has provided a great chance for Vietnamese produce to enter the world's largest market.
Nevertheless, since this market is no longer an easy one, and thus export merchandise from Vietnam must satisfy China's requirements about food safety, quality, and sanitation, along with a more competitive price. This obviously calls for renovations in manufacturing chains and an increase in product quality.