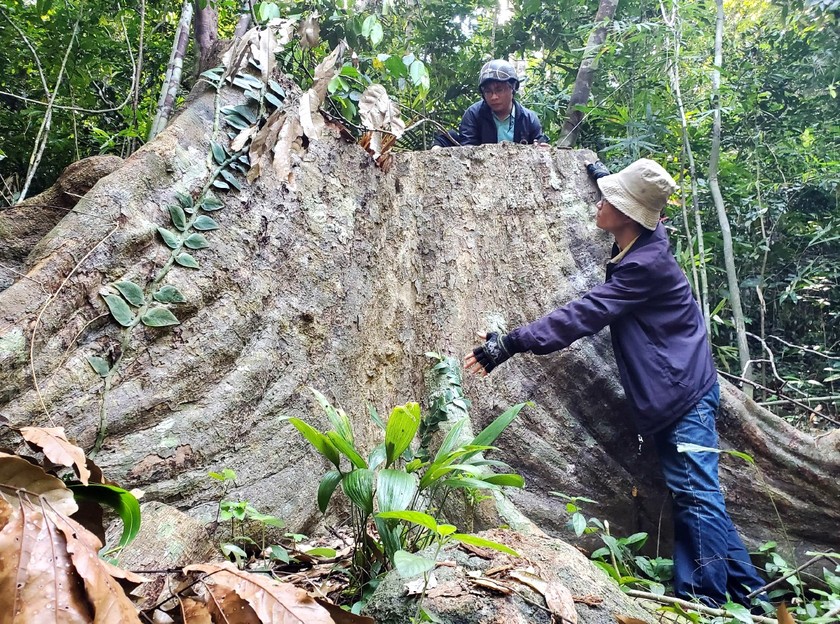 One ancient tree in Van Canh District protection forest being illegally felled

According to H., a local resident of Tay Xuan Commune in Tay Son District (next to Van Canh District), to reach the felled trees in Van Canh District protection forest, it is necessary to pass two forest ranger stations, including one of the Management Board of this forest, and then walk further for 45 minutes.
At the site of the first destroyed ancient trees, many temporary tents of criminals are still there, with clothes and pots lying scattered around. Several trees with a diameter of 30cm – 1m have been cut down.
Continuing the journey to Chuoi Spring, five more trees can be seen having been felled, one of which is hundreds of years old. It is supposed that these trees were cut by gasoline chainsaws before being transport via the spring. H. said that there are more locations where trees have been illegally logged for many years. Lots of precious wood like hollong, palapi, Dalbergia balansae have been felled and then transported through Tay Son District.
The forest owner and related functional units admitted that there has been tree destruction in sub-zone 36 of Van Canh District protection forest, but they were not able to identify criminals. Once a case of 4 logged trees was detected but could not continue as the head ranger of the station resigned. The new cases now will be reported to higher levels for further direction.
A leader of Tay Son District Forest Protection Division said that since the beginning of 2023, this unit has not detected or arrested any illegal forest production exploitation in Tay Xuan Commune. He further informed that these new cases are the responsibility of the forest owner and functional units of Van Canh District, and all he could do was to cooperate when needed.
Head of Van Canh District Forest Protection Division Luong Van Huan said that he knew nothing about these illegal tree felling cases.
Deputy Director Nguyen Thanh Quang of Van Canh District Protection Forest explained that the forest lies on the boundary between the two districts, making it harder to detect and handle illegal activities. The criminals mostly come from Tay Son District. More seriously, many such law offenders usually threaten and attack forest rangers, which is a real concern among the ranger staff, who just receive very low salary of VND3.5 million (US$148) a month but have to perform challenging or even life-threatening tasks. That is why 20/23 of contracted employees tend to quit their job.