Foreign Ministry's spokeswoman Nguyen Phuong Nga was replying to reporters' question on Vietnam's reaction against the fact that China's State Bureau of Surveying and Mapping has recently launched an online mapping service, Map World, which shows the nine-segment claim line overlapping Vietnam's Hoang Sa (Paracel) and Truong Sa (Spratly) archipelagos and its territorial waters.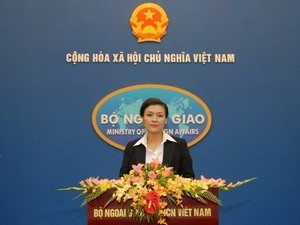 Foreign Ministry Spokeswoman Nguyen Phuong Nga
"The act by China 's State Bureau of Surveying and Mapping seriously violates Vietnam 's sovereignty over the Hoang Sa and Truong Sa archipelagoes, its sovereignty rights and national jurisdiction over the continental shelf, 200-nautical-mile exclusive economic zone," Nga said.
It also violates the 1982 UN Convention on the Law of the Sea and runs counter to the spirit of the Declaration on the Conduct of Parties in the East Sea (DOC) signed between the Association of Southeast Asian Nations (ASEAN) and China , she added.
Vietnam protests the Chinese side's move and requires it to promptly remove data on violative map and observe the common views of the two countries' leaders on maintaining peace, stability, not complicating and expanding conflicts in the East Sea, said the spokeswoman.