Cuban President Raul Castro begins his sixth year in office Monday with a session with parliament to discuss implementation of his reforms to allow small private businesses to operate in the communist country.
More than 600 deputies have been convened for the twice-yearly session with the 80-year-old president, who took over the top job from his ailing brother Fidel five years ago Sunday.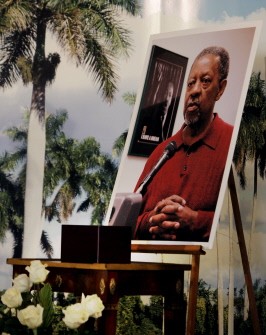 View of the urn containing the ashes of US Rev. Lucius Walker, leader of the movement of solidarity with Cuba known as Pastors for Peace, next to his picture during a posthumous tribute at the Jose Marti Memorial in Havana, Cuba, on July 30, 2011.
Members of parliament have been meeting behind closed doors since Thursday to review the state of the nation.
Poor economic results, poor planning, and bureaucratic disarray have dominated the discussions, according to Cuban press reports.
Although there was no official announcement, Castro was expected to address the session on the progress made on his plans to eliminate a million public sector jobs and create new jobs by allowing small private business to operate legally.
In recent months, the number of privately employed workers has grown from 148,000 to 326,000, while another 146,000 people have been given the use of state-owned land for farming to offset food shortages.
But Cuba will still import 80 percent of the food it consumes this year at a cost of $1.5 billion.
Small business operators, meanwhile, complain that supplies are difficult to obtain because wholesale markets do not exist in Cuba.
In response, the government has allocated $300 million for imports of equipment and other material to meet demand for them by the private businesses.
It also lifted a ban on the sale of consumer appliances in effect since 2003, to satisfy demand from business for items like ovens, air conditioners, deep fryers, toasters, coffee makers and other equipment.
Central Bank President Ernesto Medina, in a report to parliament, has promised to improve access to credit for small businesses and farmers and to finance home improvement and construction projects.