Viet Nam and Israel will further strengthen and develop multifaceted co-operation in the near future, especially in the fields of science and technology, agriculture, trade, investment and tourism.
The announcement was made by Vietnamese President Truong Tan Sang and his Israeli counterpart Shimon Peres during talks in Ha Noi yesterday.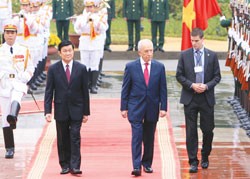 President Truong Tan Sang (left) and Israeli President Shimon Peres (centre) inspect a guard of honour in Ha Noi yesterday.—
Sang welcomed Peres' visit to Viet Nam, saying that it underscored growing co-operation between the two countries.
He informed his guest about Viet Nam's achievements during renewal and affirmed that the country would strive to be a friend and partner of countries around the world for peace, independence and development.
In its diplomatic policy of diversification and multilateralisation, Viet Nam attaches great importance to developing friendship and co-operation with Middle East countries, including Israeli, Sang said.
The State leader added that Viet Nam would support dialogue and peaceful settlement of conflicts, including the Israel-Palestine issue, in line with international law.
Peres expressed his admiration for President Ho Chi Minh and the achievements made by the Vietnamese people in the fight for national independence, as well as for the country's reconstruction and development.
The Israeli President said he wished the country every success with achieving its socio-economic development goals, and to build a rich and strong country.
The two leaders shared views on international and regional issues of mutual concern and expressed the hope of boost information exchange for peace, stability, co-operation and development.
At a separate meeting with President Peres on the same day, Party General Secretary Nguyen Phu Trong said he wanted to further strengthen co-operation and relations with Israel.
Trong said he believed the visit by President Peres would contribute to speeding up bilateral co-operation in the economy, science and technology and trade and investment.
Peres said Israel wanted to further step up co-operation in areas the country was in a position of strength, such as science and technology, agriculture and education and training.
He said he highly appreciated Viet Nam's achievements and experiences in national building and development as well as the country's prestige and position in the region and the rest of the world.
During talks with President Peres yesterday, Prime Minister Nguyen Tan Dung said the two governments should effectively implement bilateral agreements.
He also suggested to establish the Viet Nam-Israel Inter-Governmental Committee on Economic, Trade, Scientific and Technological Co-operation this year.
Dung asked Israel to support Viet Nam in dairy farming and to continue training Vietnamese specialists in agriculture.
While applauding Israel's achievements in development, especially in science and technology, he affirmed Viet Nam wanted to develop long-term, unshakeable and mutually beneficial co-operation with Israel.
President Peres said the aim of the visit was to speed up relations between the two countries and affirmed Israel was willing to co-operate with Viet Nam for the interests of the two peoples