Protesters spilled their own blood at the gates of Thailand's government headquarters Tuesday in a colourful act of political theatre designed to propel their fugitive hero back to power.
Thousands of "Red Shirts" loyal to deposed premier Thaksin Shinawatra queued up during the day to donate blood in makeshift tents, where it was poured from syringes into five-litre water bottles for the bizarre spectacle.
Red leaders said they had collected 300 litres (530 pints) of blood, far short of their aim of 1,000 litres, most of which they poured at the Government House gates in the late afternoon to press their demand for snap elections.
Related article: Thai protesters give blood
They later took some of the blood to Prime Minister Abhisit Vejjajiva's Democrat party offices for a second protest, where a Hindu priest began the symbolic spilling by invoking a curse against the government.
The demonstrators said they would march to Abhisit's residence in central Bangkok on Wednesday morning as they step up their campaign, though the premier will not be there.
The bloody show was the latest part of a pro-Thaksin demonstration which has drawn up to 100,000 protesters to the streets of Bangkok since the weekend, according to police, watched over by 50,000 security forces personnel.
The Hindu priest, wearing a traditional white outfit and with bare feet, knelt down in the blood to wipe his hands in it, before raising them aloft. Others then joined in, creating pools of blood at the steps of the offices.
"This blood is to show our commitment in calling for democracy. This is an important curse ritual," said Red leader Nattawut Saikur.
The Red Shirts, whose numbers appeared to be dwindling on Wednesday, held the blood bottles in the air triumphantly as they rode on trucks followed by thousands of supporters and monitored by riot police.
They are protesting against the perceived elitism and illegitimacy of the Abhisit government, which came to power via a December 2008 parliamentary vote after a controversial court ruling ousted Thaksin's allies.
Last month another court decision confiscated 1.4 billion dollars from Thaksin, whose followers are largely from the poor rural north and fervently support the populist policies he introduced before being ousted in a 2006 coup.
Related article: Key dates in Thaksin saga
They began their blood drive on Tuesday morning despite hygiene concerns raised by health officials. Organisers insisted only qualified medics were collecting donations, using one needle per person.
"It doesn't hurt. I'll do any activity the leaders say, I'm willing to participate because I want a democracy," said Somsak Janprasert, 63, a retired railway official from Bangkok.
"This is a very symbolic way to express that our blood, the people's blood, is power," he said.
On Monday the Red Shirts spent several hours massed outside an army barracks on the northern outskirts of Bangkok where Abhisit and his government were holed up amid fears of violence by saboteurs.
The premier rejected the crowd's demands to dissolve parliament and call elections, and on Tuesday he again stood firm against their calls.
"A decision cannot be made between protesters and the government, because it is related to the whole country," he said on television from the barracks.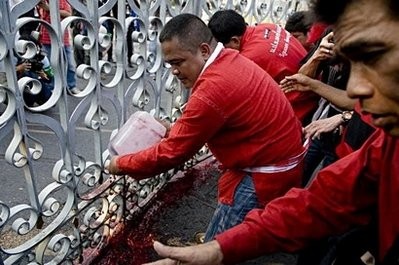 A red-shirted supporter of deposed Thai premier Thaksin Shinawatra pours a canister filled with human blood onto the gates of the Government House in Bangkok
A joint session of both houses of parliament was postponed on Tuesday due to the lack of a quorum, with some lawmakers fearing for their safety in the ongoing demonstrations, parliamentary officials said.
At a separate army barracks across the city, four grenades exploded on Monday, wounding two soldiers and raising tensions. It was not clear if the attacks were linked to the Red Shirts, whose leaders denied involvement.
Since the coup that ousted Thaksin, Thailand has been rocked by protests from both supporters and opponents of the former premier, who lives abroad to avoid a jail term for corruption.
Thaksin, who was spotted over the weekend in Montenegro, made an impassioned plea to supporters by a video link to Bangkok on Monday evening for the third consecutive night, urging them to fight on.