A US lawmaker was in critical condition after being shot in the head by a gunman in Tucson, Arizona, in an attack which killed six including a federal judge and a nine-year-old girl.
President Barack Obama called the attack on Democratic Representative Gabrielle Giffords Saturday a "tragedy for our entire country," while police said the gunman may not have acted alone.
The gunman -- named by media as Jared Lee Loughner, 22 -- had a criminal past and was unstable but not insane, said Sheriff Clarence Dupnik, adding the man was not talking to police officers in custody.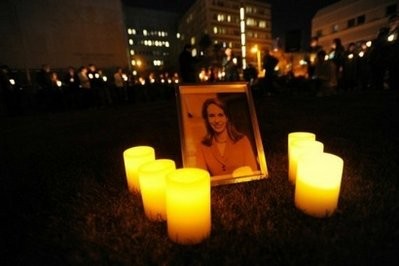 People gather for a vigil at University Medical Center for US Representative Gabrielle Giffords (D-AZ), who was in critical condition after being shot in the head by a gunman in Tucson, Arizona, in an attack which killed six including a federal judge and a nine-year-old girl
"There's some reason to believe that he came to this location with another individual," he added, saying the gunman "has kind of a troubled past, and we're not convinced that he acted alone."
Initial media reports suggested that Giffords, 40, had died following the shooting outside a Safeway grocery store. The dead included veteran US federal judge John Roll and the young girl.
But doctors said Giffords could recover despite being shot in the brain, the bullet passing through her brain from one side.
"She is in critical condition (but) I'm optimistic about recovery," said University Medical Center trauma chief Peter Rhee. "We cannot tell what kind of recovery, but I'm about as optimistic as you can get," he added.
At a later briefing however, Giffords family friend and former US surgeon general Richard Carmona was more cautious, saying: "With guarded optimism I hope that she will survive, but this is a very devastating wound."
Giffords was hosting a "Congress on Your Corner" event with constituents when the gunman attacked, killing six and wounding 12, according to police spokesman Rick Kastigar. Obama said at least five had died.
Witnesses said the lawmaker was hit at point-blank range in the shooting, for which no motive was immediately known.
The incident came amid heightened security after packages ignited in a post office in Washington, DC on Friday and two government buildings in neighboring Maryland on Thursday.
Sheriff Dupnik noted two incidents involving Giffords during the recent election campaign -- one when at a meeting "someone in the audience dropped a gun out of their pants, while in another windows were broken at her offices.
Denouncing "vitriol" notably by some media outlets, he added that a suspicious package had been found at her headquarters since the shooting, which was being investigated.
Giffords, 40, became the first Jewish woman to be elected to Congress from Arizona in 2006 and is married to Mark Kelly, a NASA astronaut.
She was a centrist and a member of the so-called Blue Dog Coalition of Democrats who support fiscally conservative, pro-business policies.
She has pushed for more troops to guard the nearby US-Mexico border and favored a path to legalization that would require illegal immigrants to pass a criminal background check, pay back taxes and learn English.
Obama condemned the attack as an "unspeakable tragedy" adding: "Such a senseless and terrible act of violence has no place in a free society."
Arizona Senator and former presidential candidate John McCain said: "Whoever did this; whatever their reason, they are a disgrace to Arizona, this country and the human race."
Other Congress members were advised to review their security. The US Capitol police urged them to "take reasonable and prudent precautions regarding their personal safety and security."
The shooting came days after Congress reconvened with Republicans in control of the House of Representatives and with an enhanced minority in the Senate following their route of Obama's Democrats in November elections.
Former Arizona attorney general Terry Goddard said there had been previous threats against Roll.
"There has been occasional violent talk this last election season... Violent talk sometimes begets violent actions," he said, referring to campaigning ahead of November 2 mid-term ballots.
Conservative standard-bearer Sarah Palin also offered her condolences the victims. "We all pray for the victims and their families, and for peace and justice," Palin wrote on her Facebook page.
Giffords had been among those targeted for defeat by Palin because of the Democrat's support for the Obama health care overhaul.
Giffords' name was on a list of lawmakers beneath the slogan "It's time to take a stand" and an advertisement for SarahPAC, Palin's political action committee.