Barack Obama will seek to corral panicked Democrats and win back disaffected voters this week in the debut State of the Union address of a presidency dragged down by crushing economic gloom.
Suddenly, Obama is at a turning point, after Republicans snatched away the Democratic super-majority in the Senate and with his own party now viewing November's mid-term congressional elections with a sense of doom.
The State of the Union address, beamed simultaneously on US television networks and cable news stations, offers a president his best annual chance to bypass the media and speak directly to Americans.
With a quarter of his term expired, Obama will step up in the House of Representatives on Wednesday night saddled by diminished approval ratings, averaging around 50 percent, and with his health reform plan on life support.
With unemployment at 10 percent, Obama's bond with the US public is frayed, and he is losing his hold on crucial independent voters.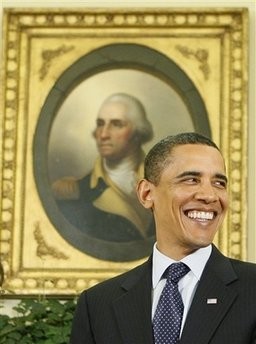 US President Barack Obama.
"The speech for him is going to have to be a reset, a second chance to make a first impression," said Kareem Crayton, a political science expert at the University of Southern California.
Washington is reverberating from the shock Republican victory in late liberal lion Edward Kennedy's Senate seat last week, which traumatized Democrats and is testing ties between Obama and his own party in Congress.
The defeat took Democrats below the magic 60-seat barrier needed to thwart Republican Senate blocking tactics in the Senate -- leaving Obama's chances of passing his ambitious agenda in serious doubt.
Republicans have no incentive to cooperate, seeing their win in Massachusetts as vindication of their total opposition to Obama's health care plan and broader agenda.
Democratic Senator Robert Menendez of New Jersey urged Republicans to now shrug off the "Party of No" label pinned on them by critics and contribute to formulating workable solutions for Americans.
"'No' doesn't create a job. 'No' doesn't create health care insurance for anyone... 'No' doesn't help a senior citizen with their prescription drug coverage. It's time to begin to say 'yes' to move the country forward," Menendez told ABC television's "This Week" program.
Observers will watch Obama's speech for signs that he is trimming his ambitions, or tacking to the political center to chase independent voters dismayed by the slow pace of the change he promised.
He has already acknowledged American anger and frustration over recovery benefits failing to trickle down to the middle class while banks and finance firms are again piling up huge profits.
On Friday, in a possible preview of next week's address, he posed as a champion of the working man, vowing an all-out fight to create jobs -- though his policy options for doing so seem limited.
"So long as I have the privilege of serving as your president, I'll never stop fighting for you," he told an Ohio town-hall meeting.
Obama's feted 2008 campaign manager David Plouffe meanwhile warned Democrats against "bed-wetting" in a Washington Post article Sunday.
"This will be a tough election for our party and for many Republican incumbents as well. Instead of fearing what may happen, let's prove that we have more than just the brains to govern -- that we have the guts to govern."
White House advisers hit the talk show circuit Sunday insisting the Obama administration was not seeking to turn over a new leaf by bringing Plouffe back in.
"No, we're not hitting a reset button," White House senior adviser Valerie Jarrett told NBC's "Meet the Press."
All 435 seats in the House of Representatives are up for grabs in November, along with a third of the Senate's 100 seats.
Mid-term elections usually wound first term presidents, but the key to this cycle may lie in which party best exploits the ugly public mood.
So Obama is repeatedly slamming Wall Street, and seeking to insulate himself from popular rage over government bailouts of the finance sector as it wallows in bloated bonus payments.
Brookings Institution scholar Thomas Mann said Obama must Wednesday offer a spirited defense of his health reform plan, blame Republicans for the economic blight he inherited and say how he will ease the pain.
"He needs to be aggressive with the financial community and his unified, ideological Republican opposition, and indicate clearly what he is prepared to fight for and lose reelection for."
The president also faces pressure to sketch a viable way forward for his health plan, with some Democrats thinking of splitting the measure up in incremental chunks, a world away from the historic triumph Obama has in mind.