Britain's new government publicly assured the United States on Tuesday that it remains committed to its central role in the war in Afghanistan, despite heavy losses in what U.S. defense chief Robert Gates called the "absolute middle of the thick of the fight."
Britain's new coalition government is considered less invested in the eight-year Afghan war than its Labour predecessor, and eager to offer an exit plan to a public increasingly impatient with the stalemate.
British Defense Minister Liam Fox said that upon taking the job last month, "the first question I asked myself was, 'Should we be in Afghanistan?'"
"The answer had to be, of course, yes. We still have a national security imperative," Fox said.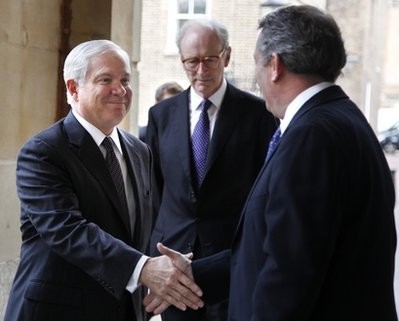 Defense Secretary Robert Gates, left, is greeted by British Defense Secretary Liam Fox, right, in London, Tuesday, June 8, 2010. At center is protocol officer Mark Corbet Burcher
That was a relief to Defense Secretary Robert Gates, standing beside Fox following a meeting that also focused on the Iranian nuclear threat.
The Obama administration needs Britain most among its allies in Afghanistan as it expands the war this year and then looks for ways to shrink it in 2011.
With 9,500 forces in Afghanistan, Britain has the second-largest number of forces in the war after the United States. Britain helps manage the war's heaviest fighting across southern Afghanistan and has also been a leader in recruiting help for the war from NATO nations, where the fight has always been unpopular.
"We're committed to seeing it through to resolution," Fox said.
Gates praised British forces for bravery and resolve in volatile Helmand Province.
"British soldiers are in the absolute thick of the middle of the fight," Gates said.
The Obama administration and war commander Gen. Stanley McChrystal bruised British feelings several months ago with a reorganization of war headquarters that many British military officials saw as insensitive or heavy-handed.
Fox all but dismissed the notion that British forces might be asked to expand next door to Kandahar Province as the U.S.-dominated coalition expands the war there this summer.
A full British pullout never seemed likely after opposition leaders David Cameron and Nick Clegg defeated Labour's Gordon Brown, but allies including the U.S. have been waiting for an unequivocal statement.
When Fox visited Afghanistan last month he said he hopes to speed the withdrawal of British troops from the country.
"We have to reset ambitions and timelines," he said then, adding in an interview with the Times newspaper that he "would like the forces to come back as soon as possible."
On Tuesday, Fox said only that "we do not wish to be in Afghanistan any longer than we have to to fulfill the conditions that we set ourselves."