Brazilian President Luiz Inacio Lula da Silva on Monday urged his visiting Iranian counterpart Mahmoud Ahmadinejad to find a "just solution" with the West to Tehran's contested nuclear program.
Lula, speaking in a joint media conference with Ahmadinejad, reiterated that Brazil backed Iran's declared quest for "peaceful nuclear energy in full respect of international accords."
He appealed to Ahmadinejad to "continue contacts with interested countries for a just and balanced solution on the nuclear issue in Iran."
Ahmadinejad, for his part, voiced support for Brazil's bid to one day become a permanent member of the UN Security Council. Brazil is to take one of the non-permanent seats -- those without the power of veto -- in 2010 and 2011.
"We support a reformed UN Security Council and for Brazil to have a permanent seat," he said.
He argued the council "has failed over the past 60 years because of the veto power of a small number of countries, a source of insecurity for several countries in the world."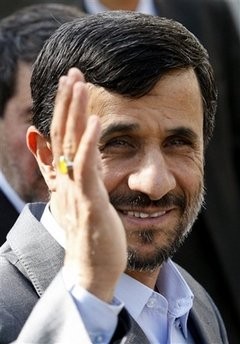 Iranian President Mahmoud Ahmadinejad
The United States and Europe are leading an international campaign against Iran's nuclear program, amid suspicions the Islamic state is trying to build a nuclear arsenal under cover of a pursuit of atomic energy.
Iran on Monday reinforced its rejection of a UN-brokered deal that would call for Russia and France to enrich its uranium, with a senior official saying no nuclear reactor fuel would leave Iran.
Lula has repeatedly backed Tehran's nuclear program, and said he opposed international sanctions on Iran.
Ahmadinejad's visit to Brazil was the key leg of a five-nation tour to sympathetic Latin American and African seen backing Tehran's vision of a new world order in which the United States is not dominant.
The itinerary began in Gambia, and after Brazil was to continue with Bolivia, Venezuela and Senegal.
Lula, a moderate leftist wary of US influence in the world, has reached out to Iran as part of a broader strategy to implicate Brazil in seeking peace in the Middle East.
In his weekly radio broadcast on Monday, he said: "You can't move forward by isolating Iran. If Iran is an important player in all this discord, it's important that someone sits down with Iran, talks with Iran and tries to establish a point of balance, so that we can return to a degree of normality in the Middle East."
Days before receiving Ahmadinejad, Lula made a point of welcoming visits by Israeli President Shimon Peres and Palestinian President Mahmoud Abbas.
On Monday, he announced he would travel to Israel, Jordan and the Palestinian Territories in March next year.
The Iranian president was accompanied by a 300-strong delegation, half of which were Iranian businessmen working towards Tehran's goal of lifting bilateral trade with Brazil from one billion dollars today to 15 billion dollars in the future.
Several protests over his visit have taken place, notably one on Sunday in Rio de Janeiro, where 1,000 members of Jewish, anti-racist and gay rights groups rallied against Ahmadinejad's tirades.
Sao Paulo's governor, Jose Serra, who is seen as the leading potential candidate in presidential elections in October next year that will select Lula's successor, called Ahmadinejad's visit "undesirable."
"Democracy and human rights are indivisible and have to be defended in every part of the world," he wrote in an opinion piece published in the Folha de S. Paulo newspaper.
After his 24-hour Brazilian leg, Ahmadinejad was to depart for Bolivia for talks with his counterpart Evo Morales, then on to Venezuela to see his "friend" Hugo Chavez. Both Morales and Chavez are strongly critical of the United States.