Indonesia's Mount Merapi volcano spewed more deadly heat clouds as President Susilo Bambang Yudhoyono visited some of the 50,000 evacuees in shelters.
Searing gas billowed from the crater of the 2,914-metre (9616-foot) mountain in central Java as the president repeated scientists' warnings that further eruptions are likely over the coming weeks.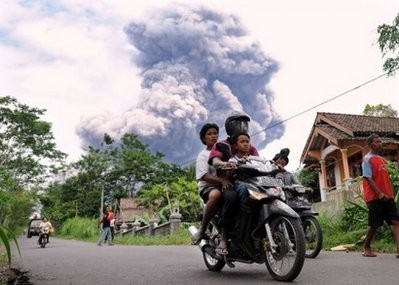 Local residents leave a danger zone as Merapi volcano releases ash clouds in Balerante village, Klaten.
"There will be more eruptions from Merapi, albeit small ones. If the conditions are safe you will be able to return to your homes," Yudhoyono told residents of a camp outside the 10-kilometre (six-mile) danger zone.
Thirty six people were killed in a major eruption last week and experts say the volcano remains extremely dangerous.
Yudhoyono asked evacuees to be patient and promised government assistance to rebuild their communities once the all-clear is given for their return.
The disaster-prone Indonesian archipelago has dozens of active volcanoes and straddles