Even though the Information and Communication Ministry has already asked mobile network carriers to tighten their management on their pre-paid mobile phone subscribers and to prohibit the trade of pre-activated SIM cards, in many regions, including Ho Chi Minh City, this illegal activity still takes place publicly.
In HCMC, it is not at all hard to buy a pre-activated SIM card of popular carriers like VinaPhone, Mobifone, Viettel with only VND70,000-200,000 (US$3-8.5) without any request on identification documents. It can be used instantly when installed into a mobile phone.
Thanh Quan, a mobile phone shop owner on Ba Thang Hai Street in District 10, HCMC informed that the price of a junk SIM card depends on the specific number and current promotion programs of mobile service providers. At present, the prices for one such card from Viettel, VinaPhone, and MobiFone are VND160,000 ($6.8), VND120,000 ($5.1), and VND170,000 ($7.2) respectively.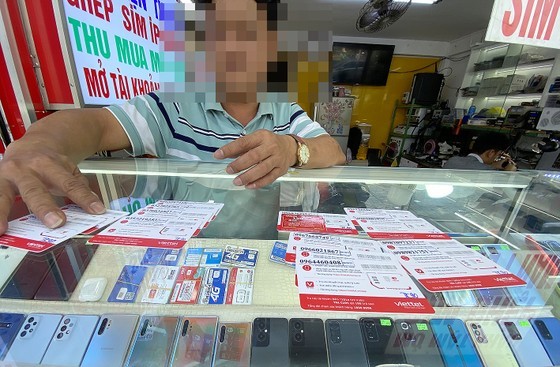 It is very easy to buy a junk SIM card in Vietnam (Photo: SGGP)

A look at SIM card shops in the districts of Tan Binh, Binh Thanh, 3 reveals a similar state where junk SIM cards are sold publicly. The situation is not less bustling for online shops on social networks and e-commerce platforms.
Head Vu Minh Hieu of the Cyber Security Office under BKAV Group shared that via the combination of a junk SIM card and popular communication apps such as Viber, Zalo, or Facebook Messenger, criminals can easily post fake images or news to increase their prestige and earn trust from their victims for future tricks.
Another serious matter according to Hieu is virtual phone numbers which are not locked with any locations or physical equipment for ease of communication among electronic devices. This has made the management task for these numbers extremely challenging. Criminals are taking advantage of that to activate Over-the-Top (OTT) applications through simple steps. Those applications will be then used for illegal acts.
"After March 31, a large quantity of mobile subscribers without standardized information will be deactivated. Therefore, citizens should be cautious against fraudulences taking advantage of this news", warned Vu Ngoc Son, Technology Director of Vietnam Cyber Security Technology JSC.
Deputy Head Nguyen Phong Nha of Vietnam Telecommunications Authority (under the Information and Communications Ministry) said that it is impossible to forbid a person from owning multiple SIM cards as they might need them for business purposes. However, to limit the use of SIM cards for ill intentions, when an individual wishes to own more than three SIM cards, he or she must sign a contract with mobile carriers.
The official then stressed that one of the focused missions in 2023 of the telecoms industry is to completely address the issue of SIM cards bearing incorrect information or even lacking identity information of their owners. Simultaneously, the community should be helped to raise awareness about the risks of using junk SIM cards.
Deputy Head Nguyen Phong Nha informed that after March 31, any SIM card with information not matching the one in the National Population Database will have its calling ability locked. Meanwhile, Vietnam Telecoms Authority is asking telecoms enterprises to review, compare information of phone numbers under their management with that in the National Population Database to ensure the precision of these information pieces.