After earlier speculation about the disease, it has since been confirmed by a Health Ministry official that Rift Valley Fever (RVF), an infectious and potentially fatal disease originating from Kenya, is not present in Viet Nam.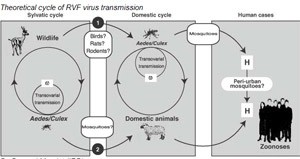 Theoretical cycle of RVF virus transmission
However, the Central Preventive Health Department has asked that international quarantine centers across the country keep a close eye out for the disease.

Deputy Health Minister Dr. Trinh Quan Huan confirmed that Rift Valley Fever (RVF) is a zoonosis virus, one which primarily affects animals but occasionally causes disease in humans.
It may cause severe illness in both animals and humans leading to high morbidity and/or mortality rates. In Kenya, the death toll from RVF has risen to 82 with a further 220 infected.
On Thursday, the Director of the Ho Chi Minh Department of Health, Nguyen The Dung, instructed international quarantine centers, the Preventive Health Department, the Tropical Hospital and 24 clinics in Ho Chi Minh City to be on alert for the disease.
International quarantine centers have been asked to carry out medical checks on all foreign visitors, especially those coming from Africa, prior to their check-in at airports.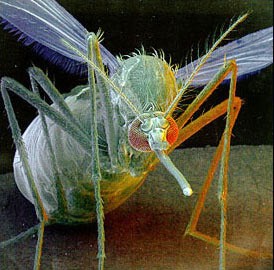 Aedes mosquitoes act as a vector for transmission of the RVF virus
While mosquitoes represent the main transmission vector of the disease, many different animal species, including domestic animals such as cattle, sheep, camels and goats are able to carry the virus.
Doctor Le Thanh Dong, vice head of the Preventive Health Department, warned that humans may be exposed to the virus while caring for or slaughtering infected animals, eating raw meat, or ingesting untreated milk.
RVF is similar to Petechial Fever in Viet Nam, however, it has a much high mortality rate at approximately 50%. The incubation period (interval from infection to onset of symptoms) of RVF varies from two to six days.
Symptoms include fever, headache, myalgia (muscle pain) and backache. Some patients may also develop a stiff neck, photophobia (the patient finds exposure to light uncomfortable) and vomiting.
Any suspect travelers will be kept in quarantine, however, during the incubation phase it's very difficult to determine whether or not someone has the virus.
Therefore, Dr. Huan warned that healthcare professionals working in international quarantine centers, along with police and border gate officials, should take care to determine a traveler's points of origin and not hesitate to quarantine those with the symptoms listed above.
The Tropical Hospital will receive suspect patients from all points of entry.
To date, there are no vaccines or cures for the disease, so the only preventive options are avoiding mosquito-infested areas, using bed-nets and eliminating sources of standing water where mosquitoes can breed.