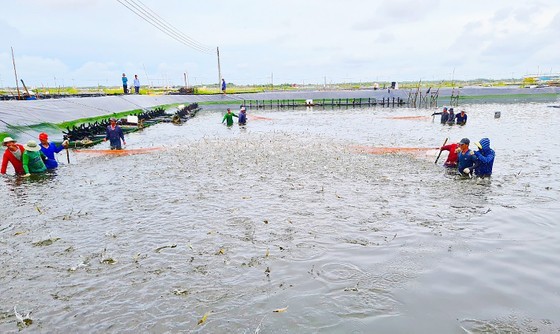 Illustrative photo: Tuan Quang
In July, the raw material prices have bottomed out.
Some shrimp processing factories for exports have just announced that the white leg shrimps are now sold at VND133,000 (US$5.5), VND104,000 (US$4.3) and VND88,000 (US$3.6) per kilogram with sizes of 30, 50 and 100 pieces a kilogram respectively which have been applying for now to Ca Mau, Bac Lieu and Kien Giang provinces
The current prices show a good sign for the shrimp industry after a long period of plunging, but they have not met the farmers' expectations.
Similarly, many shrimp export enterprises in Soc Trang and Bac Lieu are facing a lack of raw materials.
According to the export companies, the main reason is a recent slump in prices leading to the unprofitable situation for many farms so the areas of feeding shrimps are shrinking gradually. Until now, shrimp prices have increased again and farmers have not had shrimps to sell.
Amid the lack of raw shrimp, the agricultural sector of the Mekong Delta localities is implementing various solutions to support farmers.
Director of the Department of Agriculture and Rural Development of Soc Trang Province Huynh Ngoc Nha informed that the locality is working with the banks to support farmers to access preferential loans.
Besides, the provincial agricultural sector is collaborating with grass-root authorities to develop and widen the areas of feeding shrimps with effective models and assists the shrimp feeding collectives to access input material sources comprising breeding stock, food and medicine with affordable prices.
The Vietnam Association of Seafood Exporters and Producers (VASEP) forecasts that Vietnam's shrimp export market will prosper from now until the end of the year.
Currently, many export processing enterprises are promoting the purchase of raw shrimp to meet export orders. Therefore, shrimp prices will tend to continue to increase from now until the end of the year.