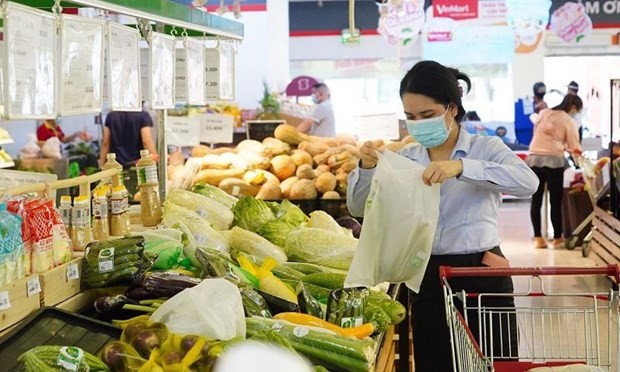 Illustrative image. (Photo: VNA)
Measures have been taken to effectively exploit the domestic market with a population of nearly 100 million to fulfill the goal of an increase of 8-9 percent in retail sales of goods and services, according to the Ministry of Industry and Trade (MoIT).
Since the beginning of this year, the ministry has strived to enhance connectivity and ensured a balance between the supply and demand of essential goods, contributing to keeping inflation under 4.5 percent.
The sales of goods, especially agricultural products in the harvest season, were facilitated, along with the establishment of a linkage between supply and demand in the online environment, based on new platforms.
In the coming time, the MoIT will continue to accelerate the amendment and completion of a number of legal documents on domestic market development.
It will also speed up the implementation of a strategy for developing domestic trade until 2030, with a vision to 2045, as well as related programs such as a project on developing the domestic market in association with the campaign "Vietnamese people prioritize Vietnamese goods" in the 2021-2025 period.
Domestic trade promotion activities will be integrated with consumer stimulus programs.
The ministry will support enterprises, especially small and medium ones, production facilities of craft villages, farmer households and co-operatives in trade promotion activities; building and protecting brands for domestic wholesale and retail distribution chains; and popularizing typical products of Vietnam.
Priority will be given to the development of modern commercial and digital platforms, and e-commerce and non-cash payment methods encouraged.
The MoIT will focus on applying digital technology to trace goods origin in commercial infrastructure systems such as supermarkets and markets, as well as developing new retail methods to meet the requirements of consumers.
It will also encourage the expansion of green distribution system and green consumption, sustainable development and circular economy in the field of commerce. The sustainable connection between production, distribution, and consumption will be boosted along with the presence of environmental-friendly products at commercial centers and supermarkets.
Under a draft project on restructuring the industry until 2030, the MoIT sets the goal of restructuring the domestic market towards fast and sustainable development. Accordingly, the models of sharing economy, night, tourism, green, circular and digital economy will be prioritized for development. The added value of domestic trade will increase by an average of 9-9.5 percent per year.