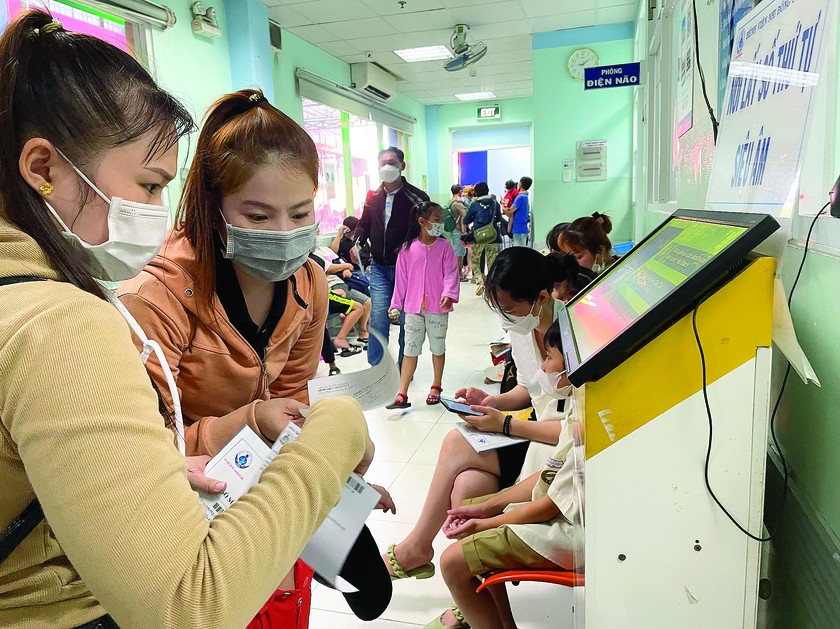 Parents take the number to see doctors at a kiosk in the Children Hospital No.1
The initial results of digital transformation not only bring digital transformation convenience in terms of services but also improve the quality of examination and treatment.
At 7 am, the campus of the Medical Examination Department of Le Van Thinh Hospital in Thu Duc City was full of people. Because he went in a hurry, Mr. Tran Van Dang, 58, in Thu Duc City did not bring his health insurance card to register, but only a VssID application on his phone.
Mr. Dang was consulted by a consultant to use the image of the health insurance card in the VssID application to carry out medical examination procedures. When paying fees, he also did not need to wait for his name to be called, but watched on the screen to prepare the corresponding amount or pay by ATM card.
Mr. Dang said that these facilities for elderly patients like him are really beyond expectations.
Children's Hospital 1 in Ho Chi Minh City has been pioneering in utility applications to serve patients with information technology.
According to Dr. Ngo Ngoc Quang Minh, Deputy Director of Children's Hospital 1, over the past 10 years, it has digitized most of the documents and medical records as well as developed a software to monitor prescriptions. The medical examination and treatment process and drug bidding are also shortened.
Thanks to that, with an average daily number of nearly 6,000 outpatients and 1,500 inpatients, the infirmary still ensures the quality of medical examination and treatment having patients' satisfaction.
At the end of November 2022, four young doctors working at hospitals in Ho Chi Minh City were tasked to work in Thanh An Commune Health Station in Can Gio District and operate the diagnostic imaging process with the help of artificial intelligence (AI) technology to serve medical examination and treatment for island inhabitants.
Associate Professor Tang Chi Thuong, Director of the Department of Health of Ho Chi Minh City, said that this activity started the roadmap to realize the model of transforming the health station's operation towards a community approach instead of just individual approach.
The application of AI is a strength of the city's health sector in taking care of people's health. In particular, the 115 People's Hospital has long been known as the most modern center in the South for stroke treatment. Since 2019, the hospital has been working to bring Rapid software into the field. Dr. Phan Van Bau, director of the hospital, said that after three years of applying Rapid software, the hospital has successfully treated more than 1,000 emergency stroke patients after six hours.
One of the most prominent examples of digital transformation success is that the Ho Chi Minh City Department of Health coordinated with general and specialized hospitals to deploy the teleconsultation application to connect primary care physicians at health stations with specialists at tertiary hospitals.
Not only that but the health sector has also successfully deployed AI applications in reading chest X-ray film results to replace radiologists in Thanh An island commune of Can Gio outlying district.