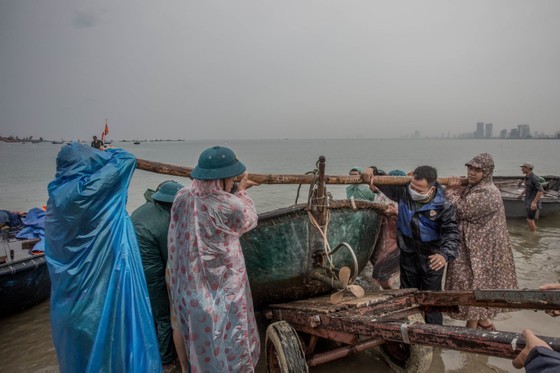 Central provinces brace for Storm Noru. (Photo: SGGP)
To actively respond to Typhoon Noru, the Department of Medical Examination and Treatment under the MoH sent an official dispatch to the health departments of provinces and cities nationwide, hospitals, and institutes under the MoH on the implementation of support for medical examination and treatment and overcoming the consequences of rain and floods.

Accordingly, the Department of Medical Examination and Treatment requires units in areas not affected by storms and floods, especially hospitals and institutes under the MoH in Hanoi and HCMC, including Bach Mai, Cho Ray, Hanoi Medical University, HCMC University of Medicine and Pharmacy, to prepare plans to participate in support.

Accordingly, in terms of human resources, hospitals and institutes will appoint 20-30 people, including doctors, nurses, and technicians specializing in emergency, intensive care, surgery, trauma, and infection control, to support units in the Central region to restore medical examination and treatment activities when receiving the order from the Commanding Committee of the MoH. At the same time, they must prepare medicines, equipment, and facilities for emergency, intensive care, external trauma, and medical examination and treatment needs after storms and floods.

For units in areas affected by storms and floods, including coastal provinces and cities from Quang Ninh to Binh Thuan, the MoH requested to urgently implement measures to ensure safety for patients and medical staff. Specifically, they must focus on moving and evacuating emergency and intensive care units and seriously ill patients requiring mechanical ventilation or dialysis; transporting and moving emergency and intensive care medical machines and equipment, medical records to high-lying areas, avoiding flooding; ensuring safety against fire and explosion, backup power and water sources, and smooth communication with supporting units and direct management agencies.

Along with that, the MoH also requested the health departments of the provinces, cities, and affiliated units to review and supplement plans and backup plans for storm and flood prevention and control, especially flash floods and flooding in the Central, the Central Highlands, and the Southern provinces; maintain measures to prevent diseases, especially dengue fever and Covid-19 pandemic during the process of organizing flood and storm control; review, adjust, and supplement reserves of medicines, chemicals, and medical supplies for natural disaster prevention and search and rescue in the last months of 2022; ensure the sufficient supply of essential medicines for people, promptly replenish the reserves of medicines, chemicals, and supplies during natural disasters, not to be passive or surprised.

The MoH also suggested that the local health departments based on actual needs propose to the People's Committees of provinces and cities to send requests to the MoH and the Ministry of Finance to submit to the Prime Minister for the allocation of chemical disinfectants, such as Chloramine B and Aquatabs, from the national reserve according to regulations.