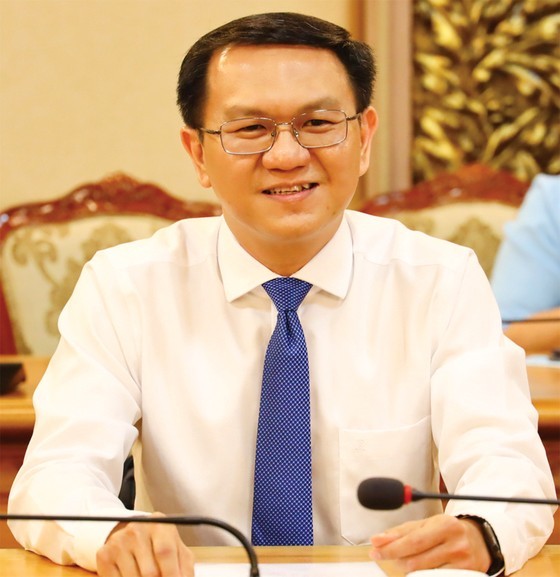 Director of the HCMC Information and Communications Department Lam Dinh Thang

Explaining the meaning of the Digital Government Award to HCMC, and Vietnam in general, Director Lam Dinh Thang said that being the most crowded and modern city in the country as well as one of the fastest-growing area in Southeast Asia, HCMC is enjoying strong urbanization. Establishing a digital government is, therefore, of extreme importance for the city to optimize its provided public services and management.
The Digital Government Award is a recognition of the non-stop efforts of both the municipal authorities and city dwellers in the digital transformation process. It is also a strong motivation for the city to continue innovating and applying practical digital solutions in city management and service provision. Finally, the Award can enhance HCMC's reputation as to administrative reform, contributing to attracting more foreign investments and international cooperation.
The Director then reported specific measures and efforts that the city has made to win such a meaningful award.
HCMC is the first place in Vietnam to introduce a digital transformation scheme via improvements in digital infrastructure in the aspects of telecommunications, information technology, and databases. It has boldly implemented IT applications in its operations to increase the quality of public services to citizens and businesses, and thus bringing back a higher satisfaction level.
For instance, the city has offered all administrative procedures online and created integration among administrative units to save time and cost. The connections among over 700 state agencies and the introduction of its formal e-Portal plus the use of its Hotline 1022 is a truly positive change in collecting and handling citizens' feedback and reports.
HCMC has applied AI and effectively used databases for decision making in its governing tasks. There have been campaigns to raise public awareness about digital transformation, creating consensus and support in the community.
Discussing further approaches to better provide public services to citizens and businesses so as to transform HCMC into a smart city, Director Thang stated that the city is going to boost the launch of integrated digital platforms making use of AI and Big Data to rise public service quality in the fields of urban management, culture, society.
Along with trying to fulfill all digital government goals, HCMC is planning to foster both its digital economy and digital society for more flexibility and higher performance, close connection in all aspects such as commerce, education, healthcare, politics.
Simultaneously, useful policies and measures to help individuals and businesses to carry out digital transformation will be done. The poor and vulnerable will not be left behind in this digital transformation process.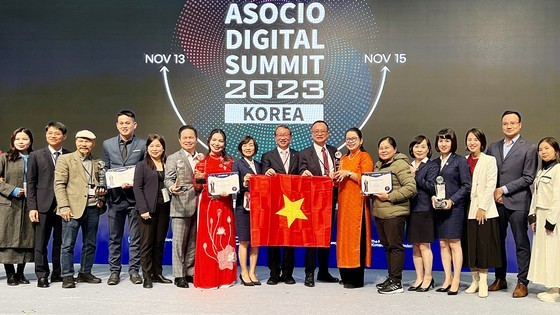 HCMC is being honored in the ASOCIO Digital Summit with the Digital Government Award

Answering the question about addressing problems related to the legal environment for the establishment of a digital government, which has not matched the society's demands, the Director first admitted that the legal corridor for IT implementation is still rather limited. The national databases are still being developed. As a result, the expected effects brought by the share of such databases have not been achieved. Meanwhile, protecting personal information and privacy in cyberspace is a serious issue. Adding to that is the anxiety of certain citizens and organizations in conducting administrative procedures online, leading to lower performance.
Therefore, HCMC has proposed that the Government and related ministries, agencies cooperate to consistently share databases and use IT applications from the central to local levels. Internet services, advertising, and online information must be managed to ensure privacy and protect sensitive data. These acts will gradually help to tackle current trouble in the process to create a smart urban area in HCMC.
As to the level of human resources to serve the establishment of a digital government in the city, Director Thang informed that HCMC has already adopted several measures synchronously. It has held training sessions on digital government, digital transformation, software use, communication skills in cyberspace to upgrade the professional level of its civil servants and public employees.
The city has tried to attract and allocate suitable jobs for the talented, especially those in the IT field. It is striving to build a professional, dynamic, creative working environment where civil servants and public employees are encouraged to materialize novel ideas and implement IT applications in their daily operation.
"HCMC is one of the first units in the country to renovate its working style by communicate with its dwellers via sections on social networks. All feedback and opinions of the public posted in the digital environment are quickly recorded and timely processed. This has created more transparency and increased people's trust as well as support towards the municipal authorities", said Director Lam Dinh Thang.