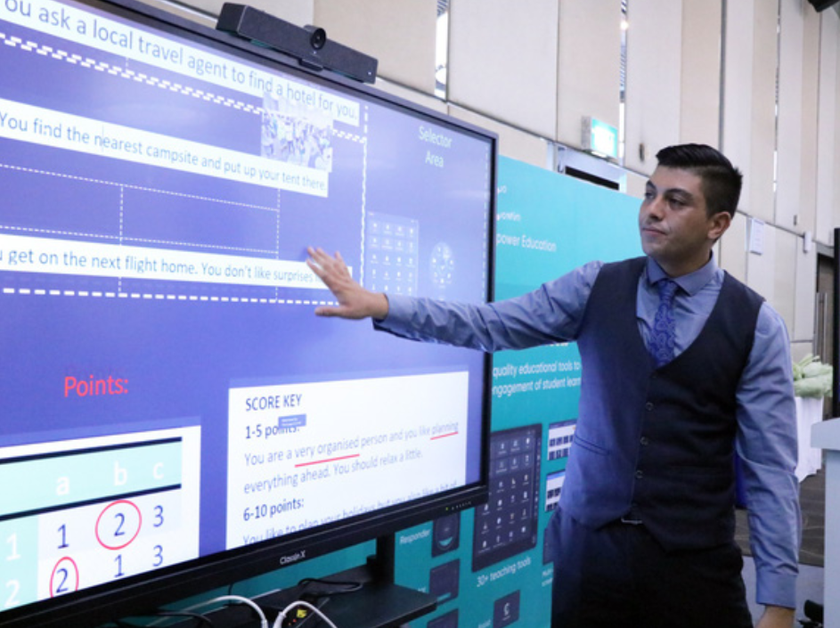 An English language teacher in HCMC is using ClassIn

Education Technology or EdTech is a concept for businesses or projects implementing cutting edge technologies in education. The growth rate of EdTech in Vietnam is impressively around 20.2 percent a year in the 2019-2023 period. Predictions show that revenues from the domestic EdTech sector will be US$3 billion in 2023.
Galaxy Education is one of the largest EdTech in Vietnam with its renowned learning platform of HOCMAI, founded 10 years ago. At present, the platform can serve students of all ages and levels in all school subjects and soft skill courses. It is serving over 7 million learners with its 600,000 online lessons, both pre-recorded and real-time teaching.
CEO of Galaxy Education Pham Giang Linh shared that despite appearing in 2006-2007, the domestic EdTech market did not truly bloom until the Covid-19 pandemic, leading to an unexpectedly high demand of online learning. As a result, EdTech startups and giants from other countries rushed into Vietnam to set up their branches here.
In 2022 only, Vietnam saw the establishment of more than 100 EdTech startups, attracting a huge amount of money from foreign investors and venture capitalists thanks to the lucrative profits. Many EdTech businesses like Topica, ELSA, CoderSchool, Edmicro, Vuihoc, or Educa successfully mobilized millions of USD. Large domestic corporations such as Viettel, FPT, VNPT are also pouring money to develop their own virtual educational ecosystem.
Not only that, ClassIn – one of the top 50 EdTech organizations in the world, specializing in online learning platforms – has reported a significant growth lately in Vietnam. It is now developing a full educational technology ecosystem with additional services of academic materials, electronic textbooks.
Director of ClassIn in Southeast Asia Truong Le Quynh Tuong said that after the Covid-19 pandemic, technology has become one an indispensable part of education in Vietnam. The HCMC Department of Education and Training has set a target of digital activities accounting for 35 percent of all activities in a curriculum to form a habit of applying technology in teaching and learning.
In 2023, ClassIn is developing the OMO model, where students come to classrooms and receive their training via real-time online teaching. This is expected to help address the problem of teacher shortage in certain areas of Vietnam.
Ho Chi Minh City, being the largest city in the country, is the leader in this market. 95 percent of operative EdTech organizations in Vietnam have their office here, and 70 percent of foreign ones set HCMC as the first target to win.
Geniebook, a renowned Singaporean EdTech business, has chosen HCMC as a strategic investment location besides major cities in Singapore, Indonesia, and Malaysia, being impressed by its flexible transformation from offline to online learning. The company grew by 3 times here compared to the pre-Covid-19 period thanks to its implementation of AI to customize lessons for each learner.
Aware that the IT human resources in HCMC are as young, enthusiastic, talented as those in other developed nations, Geniebook has formed one of its three IT teams for its global EdTech development from the staff in HCMC.
Director Huynh Kim Tuoc of the Center for Science-Technology Application under Saigon Innovation Hub commented that the number of EdTech organizations in Southern Vietnam, especially in HCMC, is quite high and the types quite diverse. Promising data about the digital market in HCMC show that this city is truly an ideal destination for EdTech. Once gaining sufficient conditions, those organizations will bloom vibrantly, creating more competitions and in turn more quality improvements to ensure their own success as well as the ever-bustling status for the EdTech market here.