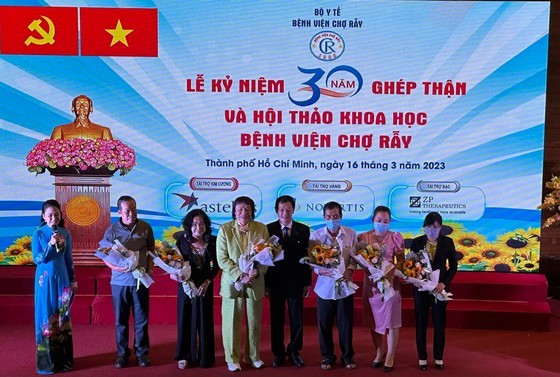 At the 30th anniversary of kidney transplantation
This morning, Cho Ray Hospital celebrated the 30th anniversary of kidney transplantation and a hospital scientific conference.
The hospital is also a pioneer in implementing solutions to expand the source of donated kidneys, such as kidney transplants from a brain-dead donor on April 23, 2008; from a cardiac arrest donor on June 18, 2015. Moreover, the hospital surgeons also conducted a cross-donor transplant on January 11, 2017 and ABO blood type incompatibility on December 29, 2021.
According to Dr. Nguyen Tri Thuc, when the hospital is informed that there is an organ donation, it will mobilize its staff to obtain organs for fast transplantation to save patients. Cho Ray Hospital has also cooperated well with specialized medical units such as the national carrier, Ho Chi Minh City Police, the southern provinces of Dong Nai and Ba Ria - Vung Tau to transport donated organs throughout the country.
The hospital has also developed a program for liver, heart, cornea, bone marrow, and skin transplantation and is currently preparing to develop lung transplant techniques. For fairness in organ transplantation, Cho Ray Hospital established the human organ transplantation coordination unit in 2014. The kidney transplantation unit is developed to become one of the leading kidney transplant centers in the country.
Dr. Nguyen Tri Thuc disclosed that the hospital has applied many new techniques to improve the quality of treatment such as laparoscopic surgery, robot-assisted laparoscopic surgery in kidney removal, pre-emptive kidney transplantation, and in patients at high risk of immunity.
At the same time, it focused on developing procedures in the care and treatment of patients after transplantation, Dr. Nguyen Tri Thuc added, the hospital has also cooperated with many organ transplant centers around the world, and at the same time, the hospital has supported more than 10 centers in the country to carry out kidney transplants.
Speaking at the ceremony, Deputy Minister of Health Professor Tran Van Thuan said that on February 28, 1992, Cho Ray Hospital performed the first kidney transplant with the support of leading domestic professors and experts and foreign experts. Since then, the hospital has focused on developing kidney transplantation as one of its spearheads, making kidney transplantation become a routine surgery.
On this occasion, the People's Committee of Ho Chi Minh City awarded certificates of merit to individuals for having laid the foundation for kidney transplantation at Cho Ray Hospital.